[WELCOME:  My articles published on NutmegGraters.Com and commercially (elsewhere) required many years of primary research, personal expense, travel and much effort to publish.  This is provided for your enjoyment, it is required that if quoting my copyrighted text material, directly provide professionally appropriate references to me.  Images are unavailable for copy. Thank you  J. Klopfer.]
_______________________________________________________________________________________________________________________________________________________
WÜRTTEMBERGISCHE METALLWARENFABRIK :
WMF.N ~ Silver-Plate On Nickel, A Table Nutmeg Grater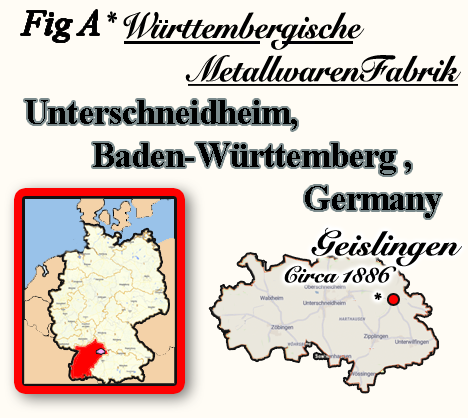 It is surprising that a late nineteenth century German metalware manufacturer would produce a fine silver-plate table nutmeg grater; this is most unusual because fancy table and pocket nutmeg graters were simply not a common part of the German food culture. Culinary practices throughout Europe were rigidly ethnocentric and insular between countries; with even smaller regions inside a country having uniquely localized food cultures and customs, often further subdivided in each region due to economic or class culinary differences. During the second-half of the nineteenth century, German metal-manufacturers began producing numerous mechanical nutmeg graters for bakers and kitchen preparations, but nutmeg used as a supplemental table condiment was popularly found usually only in France; not in Germany. About 1890 in Geislingen, Germany, Württembergische Metallwaren-Fabrik ["WMF"] (Fig A) designed and produced a formal silver-plate table nutmeg grater in the "French style" (Figs C1 & C2).
A Corporate History:
On June 23, 1880, the premium-quality tableware-manufacture
Württembergische Metallwaren-Fabrik
was formed by merger between two companies having uniquely interlocking expertise:
Straub & Sohn
of Geislingen and
A. Ritter & Co
. of Esslingen, Germany were combined into a singular "
public limited company
".
[1]
More commonly known by its acronym,
WMF
developed a wide variety of cutlery,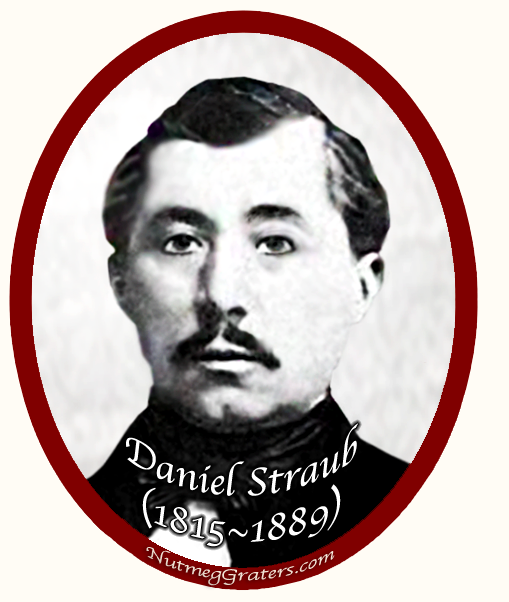 household objects and luxury metal goods in silverplate or copper-bronze relief. This company remains in business today, still located in Geislingen.
The powerhouse behind the formation of the WMF was Daniel Straub (1815 ~ 1889). Born in Geislingen, Straub started his first business there during the late 1840's by opening a small facility to repair railroad equipment as the Stuttgart to Ulm railway line was built. In 1850, Straub created the iron foundry and engineering firm Württembergische Maschinenfabrik (advertised in English as the Wurtemberg Electro-Plate Company).[2] This lead to the 1853 partnership Straub & Schweizer manufacturing metal goods, which was reorganizing in 1866 as Staub & Sohn. Starting in 1850 with 16 metal artisans, by 1866 his company employed 120 workers, in 1875 growing to 180 and in 1880, the WMF employed 500 people. "At its height, over 6,000 workers were employed in Germany, Poland and Austria, and almost 10,000 designs for objects ranging from teaspoons to enormous table centerpieces were produced."[2]
Soon after the merger, in 1881 the Esslingen location was closed with its operational contents removed to the Geislingen location (Fig B) and its company director Daniel Straub retired.[3] Elector-plating over the base metals of nickel, brass and Britannia became the preferable method to produce quality luxury tablewares at a marketable price.[2] Over time, product-lines continually advanced to reflect changing artistic styles. Under the direction of the new director Carl Hægele, additional buildings were erected to accommodate the ever-expanding product lines, and WMF continually acquisitioned numerous other metal working firms.[6]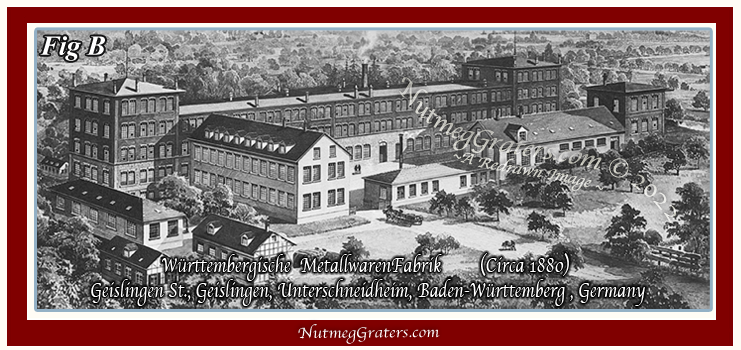 Selling products via catalog was always one of Straub's major marketing tools. As Straub & Schweizer, sales catalogs were published in 1856, 1859 and 1863.[2] When founded as Württembergische Metallwaren-Fabrik, "Sample Book" catalogs were created in 1891, 1895, 1899, 1901, 1903, 1904, 1906, and later.[2] A 389 page, 1906-catalog was reproduced by the Antique Collectors' Club in 1988 (reprinted in 1990 & 1995). Entitled Art Nouveau Domestic Metalwork From Württembergische MetallwarenFabrik, it features their popular Jugendstil (Art Nouveau) products. Because NutmegGraters.Com has limited access to any of these catalogs, the specific production dates for the WMF's silver-plate table nutmeg grater remains uncertain, nor is it known if this product actually appeared in any of the WMF's sales catalogs.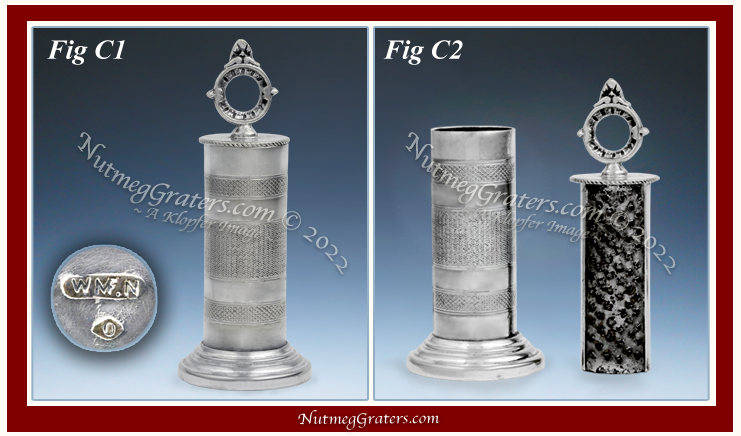 The WÜRTTEMBERGISCHE METALLWARENFABRIK Table Nutmeg Grater:
WMF's silver-plated table nutmeg grater is in the Arts & Crafts manner (an English design movement of the 1860's spreading throughout Europe and America into the 1890's, it became highly popular in Germany. / It's style is characterized by simplicity in design, unpretentious rustic beauty, and having skilled craftsmanship utility). This tastefully understated table nutmeg grater (Fig C1) stands upon a simple cascading ogee plinth footing, with a tubular body embellished by three bands of engine turned geometric-patterning. It's primary decorative feature is an open circular finial-on-pedestal, detailed with a dentil frieze motif, topped by an anthemion adornment, and flanked by two complementary side juts. This finial allows the user to lift the grater assembly from within the base unit, where also inside, a nutmeg is stored for use at the table during dining (Fig C2).
ANALYSIS OF MARKS:
Located on the bottom of the case are two marks: 1). an intaglio "WMF.N" maker's mark within an oval cartouche (Fig C1) and 2). an almond-shaped intaglio "❨O❩" silver-plate standard mark (Figs C1 & D). The maker's mark uses standard-upright font with conjoint letters "M & F", divided by a singular "dot-punctuation" placed between the "MF & N". There is no specific "date mark" on the nutmeg grater, but based upon in-depth research by David Nikogosayn of Bonn, Germany, a "date-range" is determined based upon the maker's mark.[3, 4] Nikogosayn collected more than 180 Württembergische Metallwaren-Fabrik silver-plate marks, and organized them according to production periods. He reports that during 1880 to 1886, the company used only a three-letter maker's mark: "WMF", and he illustrates that between 1886 to 1903, the company used dozens of variant arrangements having four letter marks (being: "WMFN" "WMFM" "WMFB" [varied by styles: incuse/intaglios marks; serf/non-serf letter styles; conjoined/non-conjoined fonts, letters separated by 0 to 4 "dot"-punctuations, upright/oblique/italic font styles, and being of different sizes] ). Nikogosayn further identifies that the final letters ["N" "M" "B"] indicate the sub-straight metals "brass ('M' refers to 'Messing', German term for brass) or nickel silver ('N', refers to 'Neusilber' or 'Alpacca' )"[3] and "Britannia metal ('B')"[3] over which was silver-plated.

Observing silver-plate standard marks utilized during the 1886-1903 period, Nikogosayn indicates two different "first quality" marks: an earlier "❨O❩" within an almond cartouche (Fig D) and a "(later) in a rhombus cartouche" [not shown here].[4]
Coupling this "Arts & Crafts" styled nutmeg grater with its earlier "❨O❩" silver-plate standard mark, this WMF table nutmeg grater appears to be a product of about Circa 1886.
Of further interest, the "❨O❩" silver-plate standard mark represents WMF's highest quality in silver plate, as clearly printed within their catalog (Fig D). Nikogosayn writes: "The fraction 'I/O' means the normal thickness of silver or 1 gram of silver deposited onto the 1 dm2 surface of the base metal. The 'O' letter [...] means an increased thickness (1.5 g per 1 dm2) of deposited silver layer." [4] The table nutmeg grater is silvered with WMF's highest quality plating.
SUMMARY:
Although the exact date when Württembergische Metallwaren-Fabrik introduced or discontinued their table nutmeg grater remains uncertain, its production period is about Circa 1886. It remains unknown if this item was featured among any of the many WMF "Sample Books". Being of German manufacture, it is rare, and as a collectible it remains very scarce. In spite of this, being a silver-plate nutmeg grater from the late nineteenth century, its actual market value remains modest.
WMF art nouveau products prior to World War I are the most sought after items by modern collectors and are gaining in value. Today, WMF specializes in coffee-wares.[5, 6]
[KLOPFER article © January 2022]