[WELCOME:  My articles published on NutmegGraters.Com and commercially (elsewhere) required many years of primary research, personal expense, travel and much effort to publish.  This is provided for your enjoyment, it is required that if quoting my copyrighted text material, directly provide professionally appropriate references to me.  Images are unavailable for copy. Thank you  J. Klopfer.]
_______________________________________________________________________________________________________________________________________________________
A Scarce Wassail Bowl With
Spice Box And Nutmeg Grater
The term "wassailing" relates to festive community drinking events ~ examples being: medieval Christmas, Twelfth-night or New Years, the blessing of fruit trees, and singing round-abouts. Among today's modern antiques collectors, the earliest of these wooden standing cups and wassail bowls are highly prized as collectibles.
The History of Wassailing:
Evolving from the Middle-Ages, "Wassail" is a term used during a celebratory toast to mean "Be Well !" and "To Your Health". Some believe that Henry VII (1465~1503) imported wassailing to England, following his discovery of this practice as a Swedish tradition. Others claim wassailing was known in Britain by the thirteenth century. The wassail beverage has many and varied recipes. Most of these consist of wine, cyder or ale, are heavily spiced with both nutmeg and ginger, and are sweetened using cone sugar or honey. One early 17th century recipe by Robert Herrick provides us these ingredients cleverly described using poetic verse (Fig A). Known both in England and its American colonies, the height of wassailing fashion occurred during the seventeenth century when an addition of cored apples (Fig B1) was floated in the libation.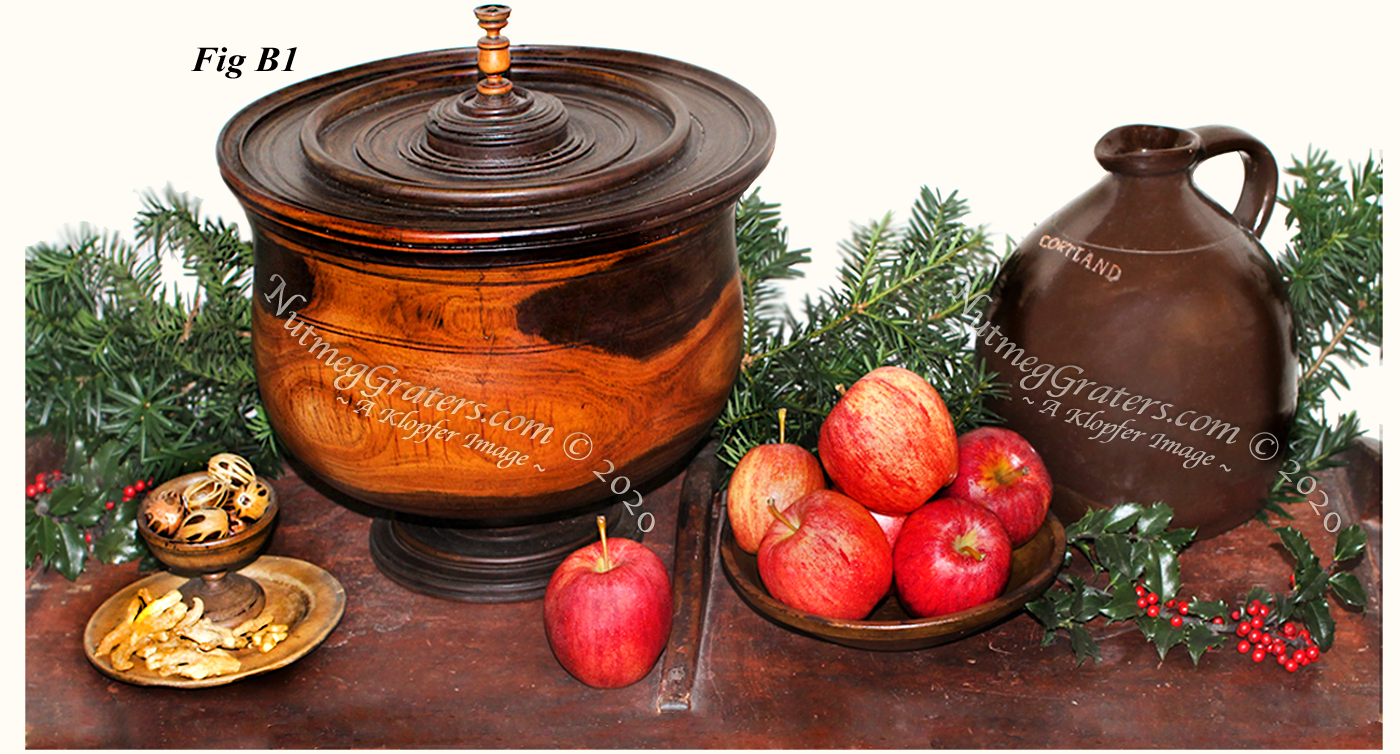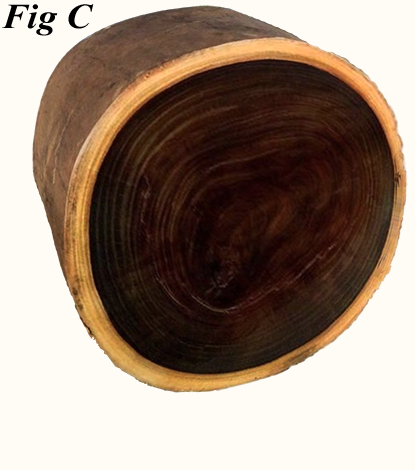 Treenware Drinking Vessels:
The earliest known drinking vessels are "standing cups", turned from soft woods: beechwood, pear, sycamore or field maple. By the sixteenth century, "lignum vitæ", a nearly indestructible hard wood, was imported from Central America to Europe. Sturdy, it was commonly used to construct mortar & pestles, ship building parts, tools and bearings, as well as to fashion food and drinking implements. "Lignum vitæ" means "the tree of life" because it was believed to provide many health benefits, due to the oiliness of the wood. It was used to treat the symptoms of arthritis, syphilis and gout. A cross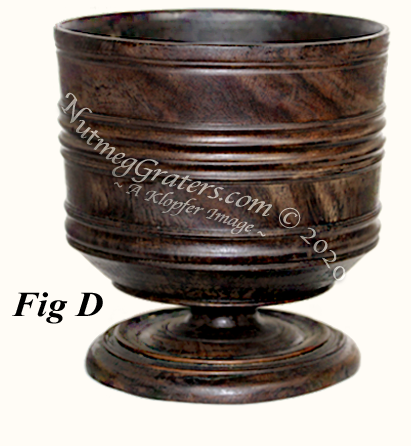 section shows this slow growth dense tree having the exterior light colored "sapwood" surrounding its dark "heartwood"; notice the large size of this lignum vitæ tree trunk (Fig C). When fashioned into bowls, the traditional wood turner's foot-pedal lath proved insufficient. A special lath was invented (functioning similarly to a "large wheel" spinning wheel) requiring three men to hand turn a large wheel which powered the lath via a pulley system. Large circumference "lignum vitæ" trees were always rare, but in modern times, all "lignum vitæ"tree are now listed as an Endangered Species.

The Wassail Bowl:
The typical 17th century footed wassail bowl ( 8" H.; 7⅞" D.) is lathed from the "heartwood" of a lignum vitæ tree trunk (Fig D). Notice its simple, but elegant molded and reeded ornamental turnings that grace its outward appearance. It was customary to pass the bowl around allowing each person a turn to drink the wassail punch. The bowl is proportioned to contain 2½ quarts of brew. There is a brass insert-container; although of early construction, probably not period to the bowl. [NOTE: Nic McElhatton, formerly Chairman of Christie's South Kensington (now discontinued), provides interesting insights pertaining to antique Treenware. See this Video: My Passion : Treen by Nic McElhatton, October 28, 2016 & Contact his Website: NICMCELHATTON.]

More elaborate examples incorporate a spice box finial on their cover. One extremely rare late 17th century wassail bowl (Fig B1) incorporates a nutmeg / spice grater within its lid (Fig B2~3). It is of impressive and rare size ( 14" H.; 14" D.) with a capacity to hold 4 gallons. Notice its gold washed, metal spice grater located in the central underside area of its lid (Fig B2). From above and in the center of the cover (Fig B3) is a small screw-top, insert lid that, when opened, reveals an internal spice box where both nutmeg and ginger were stored. The lathed handle to the insert lid is stained ivory. This bowl is lathed from an unusually large lignum vitæ tree. Both the light colored sapwood (outer portion of the tree) and the dark colored "heartwood" were planned to create an interesting visual effect. Its modern provenance dates to the 1960's when it was purchase from a Manhattan antiques shop. When created, imagine how impressed your holiday guests were with this mammoth 17th century wassail bowl as a center piece.

For today's collectors, a wassail bowl with an integrated nutmeg grater is very scarce. [KLOPFER article © January 2020]