[WELCOME:  My articles published on NutmegGraters.Com and commercially (elsewhere) required many years of primary research, personal expense, travel and much effort to publish.  This is provided for your enjoyment, it is required that if quoting my copyrighted text material, directly provide professionally appropriate references to me.  Images are unavailable for copy. Thank you  J. Klopfer.]
_______________________________________________________________________________________________________________________________________________________
Hiram Carsley's Rotary Nutmeg Grater
The advertisement for "Hiram Carsley's Rotary Nutmeg Grater Establishment" appears in the 1856 Lynn City Directory describing Carsley as a "Manufacturer of Tin Plate, Sheet Iron, Zinc & Copper Ware, of every description." Hiram Carsley (1820~1901) filed a Patent Application for an Improved Nutmeg Grater in May 1855 and US Patent # 13834 was granted in November 1855; the patent assigns ½ ownership to Carley's employer Edmund Brown (1804~1858). Examples of his nutmeg grater marked "patent applied for" suggest these examples were produced during this 1855 interim period, yet earlier examples (before May) are known. In 1857, three blocks away from his business at 320 Turnpike Roadd, Carsley purchased his home from John H. Neal at 10 Ash Street, which would remain Carley's life long residence. Tax records and local directories list Carsley as a "machinist" through the late 1860's and it is likely that he continued production of the nutmeg grater during this time. Aside from the illustration in the 1856 Lynn City Directory, no other ad or for sale references have yet been located pertaining to this nutmeg grater, and the Carsley shop would later design a different model mechanical nutmeg grater (See: Additional History).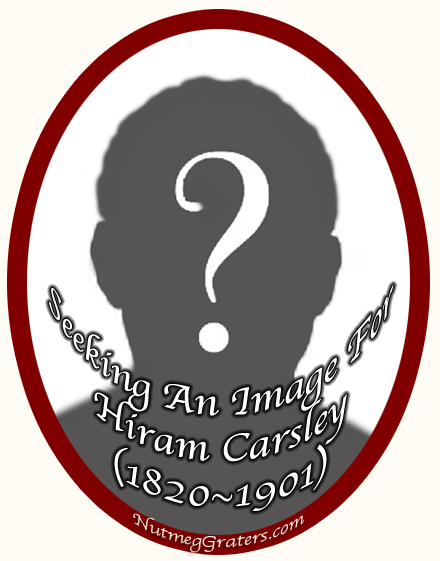 In our study, we have not yet located a photograph of Hiram Carsley. We seek to locate his photograph and images of any of his businesses. We would love to hear from anyone wishing to share their images. Thanks you!
Below are three examples of "Hiram Carsley's Rotary Nutmeg Graters." Illustrated in succession, Row 1 depicts the earliest nutmeg grater, dating prior to Carsley's May 1855 patent application. Finished in blue asphaltum, an elegant ivory knob graces the front copper wire handle. Added on the front is a gracefully engrave metal label. Compared with the later products, this nutmeg grater contains more tiny fitted pieces and clearly required more skill and assembly time.
The 1855 example in Row 2 reads "Patent Applied for" and is identically labeled as seen in Carsley's 1856 Lynn City Directory illustration (above). Note in Row 2 the image on the left; an added "dimpled indentation" is a refinement from the earlier model and serves to press the internal rotary grating wheel toward the plunger's faceplate on the opposite side.
The example in Row 3 is marked "H. Carsley ~ Patented Nov 20 1855 ~ Lynn Mass." Observe the back plate (third image from the left) has an added circular opening. This improvement allows the grater's surface to be easily cleaned, should it be made ineffective due to caked~on grated nutmeg. Other examples of the nutmeg grater bearing the full patent mark are known without this circular opening. It is presumed that the example in Row 3 is the most modern variation of Carsley's nutmeg graters.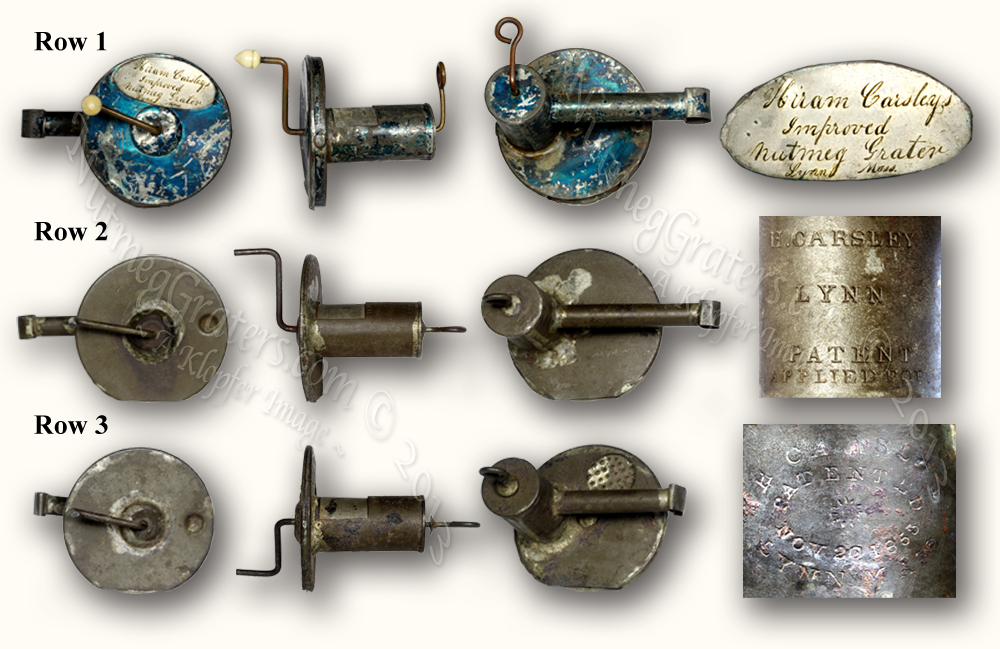 Carsley obtained other product patents, including a stove cover stand, and a broom & tool holder. In 1871, Carsley relocated his business to 219 Summer Street to began operation of a sawing and planing business, at which time the nutmeg grater was probably out of production. When Hiram built a factory in an adjacent lot to his home around 1885, he developed his lucrative box machinery manufactory. This business continued until Hiram died from a heart attack on March 1, 1901, at age 80.
Although not a common nutmeg grater, one of Hiram Carsley's nutmeg grater is findable by today's collector who is willing to search for an example.
[KLOPFER article © September 2013]