[WELCOME:  My articles published on NutmegGraters.Com and commercially (elsewhere) required many years of primary research, personal expense, travel and much effort to publish.  This is provided for your enjoyment, it is required that if quoting my copyrighted text material, directly provide professionally appropriate references to me.  Images are unavailable for copy. Thank you  J. Klopfer.]
_______________________________________________________________________________________________________________________________________________________
Producer, Promoter And Salesman
~ The Little Domestic Combination Tool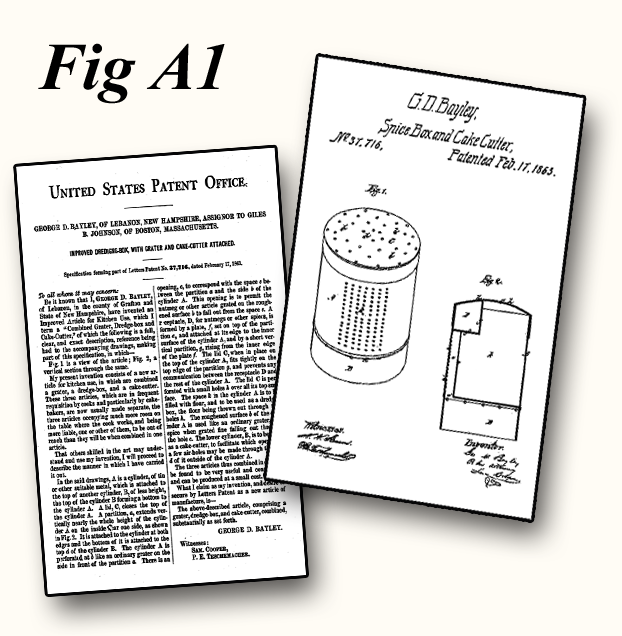 For most 19th century inventors, marketing and distribution of their creations were the major obstacles to successful profitability. To create the best products means little, if there are insufficient buyers available to purchase them. By mid-century, one entrepreneurial advancement was the creation of community display venues, where inventors could showcase their newest innovations to the general public. In the larger American cities of Chicago, New York City and Philadelphia, promoters developed Inventors' Exchanges. All of these businesses operated independently from each other and some were more successful than others. The first of these showrooms was located in Boston. It was organized by "Giles B. Johnson, Proprietor". Five years after he open, a competitor created a second, but different, and independent, Inventors' Exchange running simultaneously in another part of the city.
Born in Westminster, Connecticut, as an 8 year old boy, Giles Brayton Johnson (1827~ ? ) relocated with his family to Boston, Massachusetts. At age 23, Giles first became employed making picture frames. In the following decade, he held various positions at several locations. Between 1856 to 1857, when Giles was employed downtown at the Phœnix Building, he becomes associated with a variety of business brokers and financiers. Here he associated with Henry E. Bayley from the brokerage firm Bayley & Norris. Through this connection, Giles was later introduced to George D. Bayley, a silver plater from Lebanon, New Hampshire.
In 1859, as the owner of the newly formed Inventors' Exchange, Giles B. Johnson opens his doors. Four years later, on February 17, 1863, George D. Bayley of Lebanon, New Hampshire patents his Improved Dredging-Box, With Grater And Cake-Cutter Attached (Fig A1), listing Giles B. Johnson as the "Assignor". Being the "Assignor" indicates that Giles was the financial source behind this patent. Their product, a silver-plated flour dredger combination tool is an unusual kitchen utensil (Row 1). In addition to the cake-cutter at the bottom and the grater on its side, there was a unique storage unit (shelf) for nutmegs situated just below the lid. Elegantly engraved across the face of this utensil it reads: The Little Domestic, Patented Feb. 17, 1863. G. B. Johnson Proprietor, Boston Mass. Likely created by George D. Bayley in silver-plate, this example is possibly a display model used at Giles' Inventors' Exchange.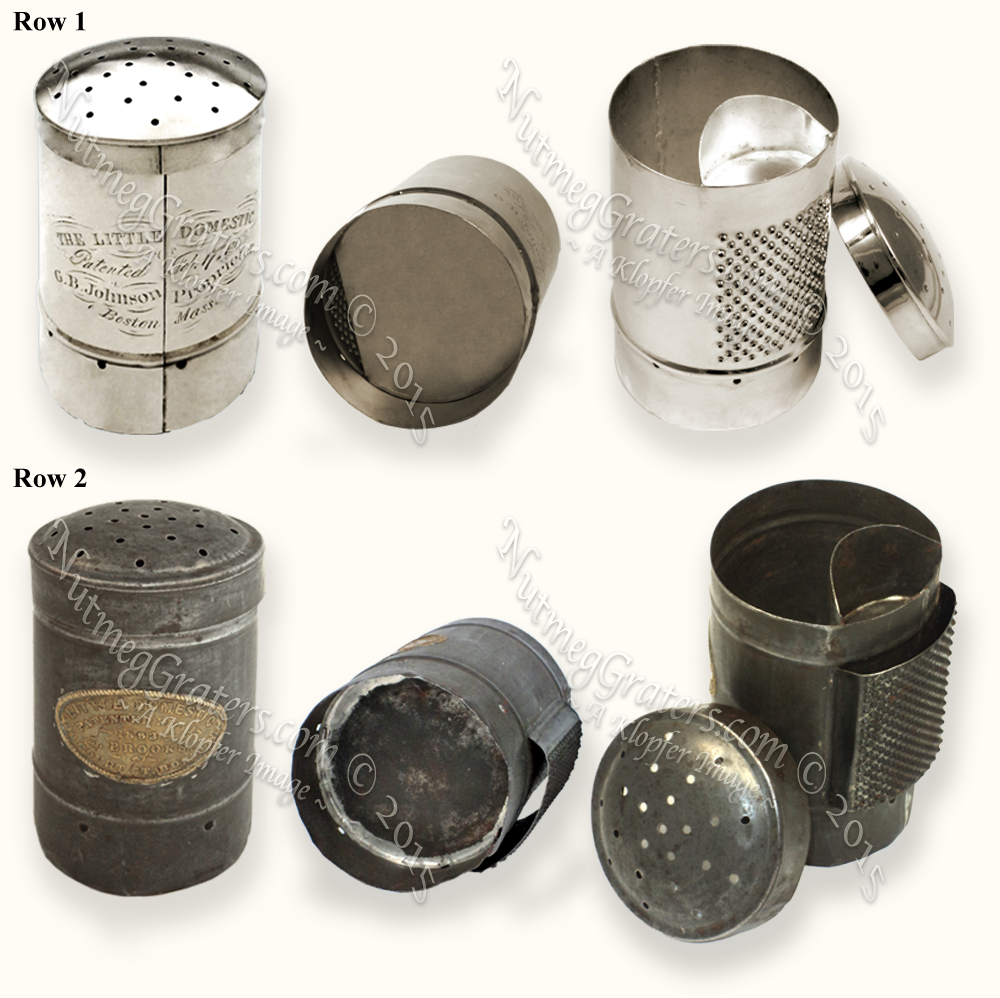 A second example (Row 2) was constructed in tin. A stand-away grater is attached at one side. On the opposite side, the tinned utensil bears a brass label reading: Little Domestic, Patented Feb.17, 1863, J. B. Brooks, 20 Court St. Boston. This is a simplification in design to the integrated grater illustrated on the original patent and as seen with the silver-plated example. As with the earlier silver-plated model, an identical tin storage unit (shelf) for nutmegs is situated just below the lid.
For only one year in 1864, Joshua Brooks was a patent agent listed in the Boston Directory at 20 Court Street [the same address as listed on the dredger's brass label]. Clearly, Joshua Brooks purchased the patent rights and independently marketed the dredger, now constructed in tin. Brooks is not listed in prior city directories and this product was probably a short lived venture, because in 1865, Joshua opened Brooks & Co., an advertising firm on School Street. Although the tin example shown here bears his label, a few are known without any labeling.
In 1866, Joshua Brooks disappeared from Boston directories, only reappearing for one year in 1870 as "a dealer in patents". Between 1863 and 1866, George Bayley worked in Boston as a silverplater, briefly being in partnership with David J. Pearson during the year 1865. Giles B. Johnson continues with the Inventors' Exchange until 1867. After 1867, neither Bayley nor Johnson had enterprises listed in Boston and nothing further is known of these entrepreneurs.
All models of the Little Domestic Combination Tools are scarce.
[KLOPFER article © January 2015]