[WELCOME:  My articles published on NutmegGraters.Com and commercially (elsewhere) required many years of primary research, personal expense, travel and much effort to publish.  This is provided for your enjoyment, it is required that if quoting my copyrighted text material, directly provide professionally appropriate references to me.  Images are unavailable for copy. Thank you  J. Klopfer.]
_______________________________________________________________________________________________________________________________________________________
Patented Nutmeg Graters That Never Reached Production -
1). Inventor John W. Hart & William Kaemmerling, Assignor;
2). Inventor John W. Hart & William Weaver, Assignor.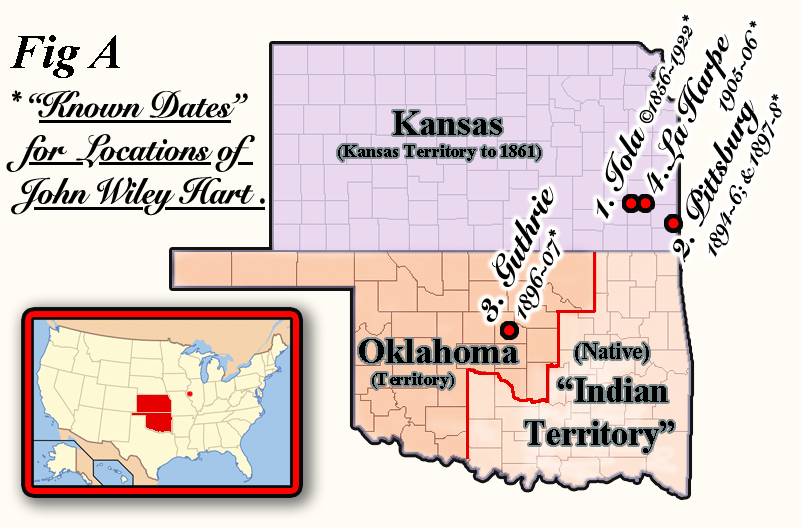 More than 150 U.S. Patents for nutmeg graters are known, yet many of those designs never advanced to a level of successful commercial production and marketing. In 1976, the well known antiques kitchenwares writer Linda Campbell Franklin, author of America in the Kitchen, from Hearth to Cookstove,[1] first introduced American antiques collectors to an image of John Wiley Hart's 1898 mechanical nutmeg grater, U.S. Patent design #604,751 (Fig B), while later, NutmegGraters.Com identified Hart's second U.S. Patent #639,852 that also includes a mechanical nutmeg grater as part of its design (Fig C). Fifty years have passed since these patent drawings were publicized, yet no manufactured examples are known to exist for either of these nutmeg graters within any museum holdings nor among the many advanced modern nutmeg grater collectors. To explore what happened to (or didn't happen with) these patented inventions, our investigation pertaining to our inventor and entrepreneur John Wiley Hart, brings us to the Mid-Western plains of the United States (Fig A). Following is a salient genealogical survey and history:
The Kansas-Nebraska Act of 1854 (effective: May 30, 1854) repealed the Missouri Compromise of 1820, creating two new American territories to be controlled by "Popular Sovereignty" [IE: government owned and controlled by the people]. Thus, a massive migration of families from the east began relocating to these two new frontier "territories" in hope to acquire large, inexpensive and significant land-tracts. In the south-eastern area of Kansas Territory, Allen County was first settled in 1855 with the town of Iola, Kansas formally established in 1858 [2]. Prior to 1860, the Hart family were among the earliest Euro-Americans to relocate within this newly developing Kansas county, arriving from Illinois.
John Wiley Hart (1852 ~ 1922) was born in Hamilton, Illinois on January 2, 1852, but following within that decade moved with his family to Allen County, Kansas, prior to his 7th birthday. John W. was the son of Martha M. Vantreece (1816 ~ 1896) and the physician & farmer John A. Hart (1818 ~ 1887). Records indicate that this was a family of means, acquiring large acreage in Allen County. John W. was the youngest of 5 siblings. While residing with his parents at age 17, John W. worked in a local printing office; and by age 28, he was boarding at a hotel in Iola, where he was employed as the hotel clerk. John W. is referenced only within the 1860, 1870, & 1880 U.S. Censuses, and seems absent from all later U.S. Census data. Available personal data suggests that John W. did not reside in any location for very long. [This becomes most noticeable when reviewing the John Wiley Hart U.S. Patents; ranging 1888 to 1917 (SEE BELOW: Fig B to Fig M).]
1). "NUTMEG GRATER" Patent # 604751 (Fig B):
While residing in Pittsburg, Kansas, John Wiley Hart filed for a nutmeg grater patent on April 17, 1897 which was granted the following year on May 31, 1898. According to the patent documents, there was no "patent model" that accompanied his patent. This patent indicated a storage area for 3 to 5 nutmegs housed within its handle. Other than indicated on his patents and patent applications, there are no other records that show John W. Hart ever actually lived in Pittsburg. Another man, John T. Hart was a "carpenter" and "machinist", listed as a Pittsburg resident from before 1880 to at least 1910; John T. possibly was a distant relative where John Wiley may have periodically resided while in Pittsburg, thus concealing any record of John W.'s whereabouts while living there.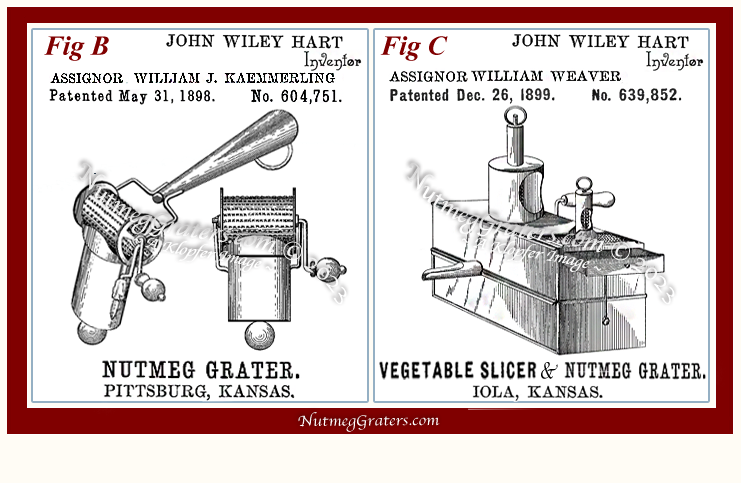 The nutmeg grater's assignor and financial backer was William J. Kaemmerling (1862 ~ 1925+). His wife Dena (Dina) (1871 ~ 1925+) was born in Missouri, where they were married prior to their residence in Pittsburg (before 1890). Initially William marketed spirits as a "beer dealer", transporting stock from Minden, Missouri, but by 1895, William became the proprietor of the "Opera House" Saloon. During this period, ground nutmeg was commonly added as a flavorant to beer and wines, especially among German-Americans. With this in mind, it makes common sense that a "beer dealer" and saloon proprietor would understand the importance of a mechanical nutmeg grater, especially among the many drinking establishments in this region.
The real question is who could actually manufacturer this product within this unsettled and raucous frontier? There is no evidence that this nutmeg grater was ever actually produced, not even in a limited capacity.
___________________________________________________________________________________________________________________________

~ TWO PITTSBURG, ALLEN COUNTY, KANSAS INTERVIEWS ~

At the end of July, or early August 1984, Klopfer was half-way through a summer genealogical research tour when he drove over a hundred miles south from Kansas City to Pittsburg, Kansas to investigate the John Wiley Hart patent. In Mid-Summer 1984, the then director of the Crawford County Historical Society, Denzel P. Davidson introduced Klopfer to two life long residents of Pittsburg Kansas who agreed to be interviewed. Following are both accounts pertaining to Hart's Pittsburg, Kansas "NUTMEG GRATER" Patent # 604751:



1984 INTERVIEW WITH MRS. JOHN M. ELLIOT (Ruth)
PITTSBURG, KANSAS 66762:

Ruth began: "I was born here in 1895, and lived here in Pittsburg, my whole life!"

She reported that in those early times, most of the people in Pittsburg were "Austrian and German". She could not remember anyone with the name Hart. "I don't remember any family with that name!" But "I do remember the Kaemmerlings."

"I attended school with the Kaemmerling boy" ...[Willie (1892 ~1915)]... "and remember his mother too." "He was tall and well built. He must have been six feet tall". "Mrs. Kaemmerling was …. well, not fat, …but, ...big! She would carry a 'lorgnette'. She was very nice looking an probably wouldn't wear glasses because they were ugly little metal frames with little glass pieces to see through." "Mrs. Kaemmerling couldn't see very well, so carried those 'lorgnette' everywhere she went. I always thought that she was a little vain." Ruth said, "I don't remember anything about Mr. Kaemmerling. But they ran the 'Annex' between 2nd and 3rd Street." She indicated that the "Annex" was the name of their "saloon".

Ruth recalled that, "Saloons were of that 'Western Style' with the swinging doors in front. All the saloons were on the East Side of Broadway and woman hardly ever went on the East side. It wasn't respectable!!" Ruth indicated that she learned what bars were like because her "girlfriend's father owned a bar" and she had learned about saloons from her "girlfriend". "I've never been to any of those places. Lady's didn't go, but one bar had a little side room for woman. It was bright, bright red! The room was situated so that the woman couldn't possibly be seen from the street." "One woman went to pay her rent in the Real Estate building and walked into the bar next door by mistake ~ Boy, was she embarrassed!" "There were lots of bars in the 'twenties', even during prohibition." She recalled.

Ruth said that she never heard anything about a nutmeg grater being made in Pittsburg, Kansas. She wondered if this was "mistaken" information and it did not seem to fit with "life in town".

1984 INTERVIEW WITH MR. LEO MILLER
PITTSBURG, KANSAS 66762:

Leo was a life-long resident of Pittsburg, Kansas and volunteered at the Crawford County Historical Society.

Mr. Miller recollected nothing of John W. Hart nor the Kaemmerling family and believed that "production" of a product like the "nutmeg grater" would be "an unlikely event … in Pittsburg, Kansas".

Leo reported that, "Pittsburg was a coal mining town, like Pittsburg, Pennsylvania, only on a smaller scale. My father was a miner!" Mr. Miller explained that there were two kinds of mining: 1). Deep mining "which was the earlier type" and 2). "strip-mining, which occurred later on." "Now, they are required, when strip mining to replace the 'shale', and then the top soil. No more piles of dirt and 'left-open' mines. "The steam shovel outside the historical society museum building was a major restoration. Although it is three times bigger than a truck, it was small compared to most steam-shovels."

"Farming was probably Pittsburg's second source of income."

"The town was rough, lots of fights among the 'scabs' and 'the minors' …'guns and weapons' ….strikes were at the hands of the minors. Saloons and drinking establishments were everywhere, …like gas stations came to be later on every corner." "Chicopee, Kansas had 12 Beer Gardens, which were very much larger than a bar, and maybe 20 saloons in addition." [NOTE: Chicopee Kansas lies about 4 miles west from Pittsburg, KS. and remains an unincorporated community of about 400 residents.] "The minors spent much time drinking. It was their true past-time", Leo said.

2). "SLICER AND GRATER FOR VEGETABLES, FRUIT, NUTMEG, &c." Patent # 639852 (Fig C):
By 1898, John W. Hart's patent application suggests that he had returned to Iola, Kansas, in that the "Slicer and Grater" patent filed on March 28,1898, listed this as his address of residence. The actual patent was legally granted the following year on December 26, 1899; again, with no "patent model" to accompany the application. This patent drawings show a rectangular box fitted with a "large casing with plunger" on top that can be fitted inside with one of two inter-changeable wheels (one for slicing vegetables, the other for grating large fruits into juices); with a smaller, separate mechanical grater for "nutmeg", where the grated powder falls into a removable box container underneath.

The patent's assignor and financial backer for the "slicer & grater" was William Weaver (1847 ~ 1902), also of Iola, Kansas. During the Civil War, William Weaver had enlisted with the Union as a Private in December 1861, but being wounded in Atlanta, Georgia, was "Mustered Out" in Ohio July 1864. In 1875, William married Mattie Bowen (1856 ~ ••••) in Crawford County, Kansas. This was the year before the town of Pittsburg, Kansas was laid out in 1876 (then, incorporated in 1879). Pittsburg was developed as a coal and zinc mining town and records indicate that William Weaver owned a business "carpentering for the military" (manufacturing burial items for the military), 3 miles west of Pittsburg in tiny "Baker Township". The U.S. Census of 1900 indicates that William Weaver moved to Iola, Kansas where he continues to work as a "carpenter", possibly relocating in association with the Hart's patent. Although there remains no evidence that the "Slicer And Grater" exists, based on Weaver's relocation, it appears likely that there was a viable attempt to do so. Weaver dies the following year (July 7, 1902), while in Neodesha, Kansas.
Oddly, John Wiley Hart appears absent from the U.S. Census of 1900. On June 1, 1900, the 12th United States Census lists John W.'s wife, Addie Heart (36; D.O.B. 1864) as a "seamstress" and "Head" of Household living with her 2 daughters: Jessie A. (age 13; D.O.B. 1886) and Caddie M. (age 11; D.O.B.: 1889) both being "at School". [NOTE: This document misspells Adelaide's last name as Heart for Hart.] The census indicated that the family "rented" a "house" on "East Jackson Street" in Iola, Allen County Kansas. Of most interest, oddly John Wiley is not included as residing with his family.
Also odd and for unknown reasons, John Wiley Hart married his wife Adelaide, twice. On October 7th 1883, John W. Hart (31) of Allen Co. Kansas married Adelaide Anderson (19) of Anderson Co. Kansas. Their first Marriage License was issued October 5th, 1883 by Iola, Allen County, State of Kansas; and the couple was married in "Iola City" on October 7th, 1883 by Justice of the Peace, J.A. Christy. Records show that this first marriage was registered with the State of Kansas. Seventeen years later in 1900, John Wiley Hart married Adelaide for a second time in Jackson County, Missouri. Both a Missouri "Affidavit" and "Marriage License, Recorder of Deeds" #3293 record this re-marriage on October 1, 1900: "John W. Hart" (48) of Iola, Allen County Kansas married "Mrs. Adelaide Hart" (35) of Iola, Allen County, Kansas, officiated by "Minister of the Gospel; A. E. Higginson".
It remains puzzling why John is not listed with his family in Iola on the U.S. Census of 1900 (June 1, 1900), but claims Iola as his residence during his re-marriage (October 1, 1900). Was he away on another business venture? And, why a re-marriage? Observing his 12 Patents (Fig B to Fig M), it seems plausible that John W. was off on another business venture. John W.'s reported residences, as listed on his many patents, frequently varied.
OTHER JOHN WILEY HART INVENTIONS:
In 1888, the 36 year old John Wiley Hart became an inventor, when he secured his first patent for a "Heating-Stove", a patent design shared with Lyman Clark Martin (Fig D). John Wiley continued successfully obtaining a total of 12 patents, his last patent being in 1917 (Figs B ~ Fig M). None of these 12 items received Patent Approval on the dates of their initial Application, meaning that there would be re-edited versions (sometimes several revisions) prior to the final granting of an actual patent. It is likely that J.W. Hart may have created other invention that were not suitably unique to obtain a protective patent...; that was the outcome for many product inventions. All of these patents are remarkable in that they were all designed and patented in the midst of a ruggedly, developing American Frontier.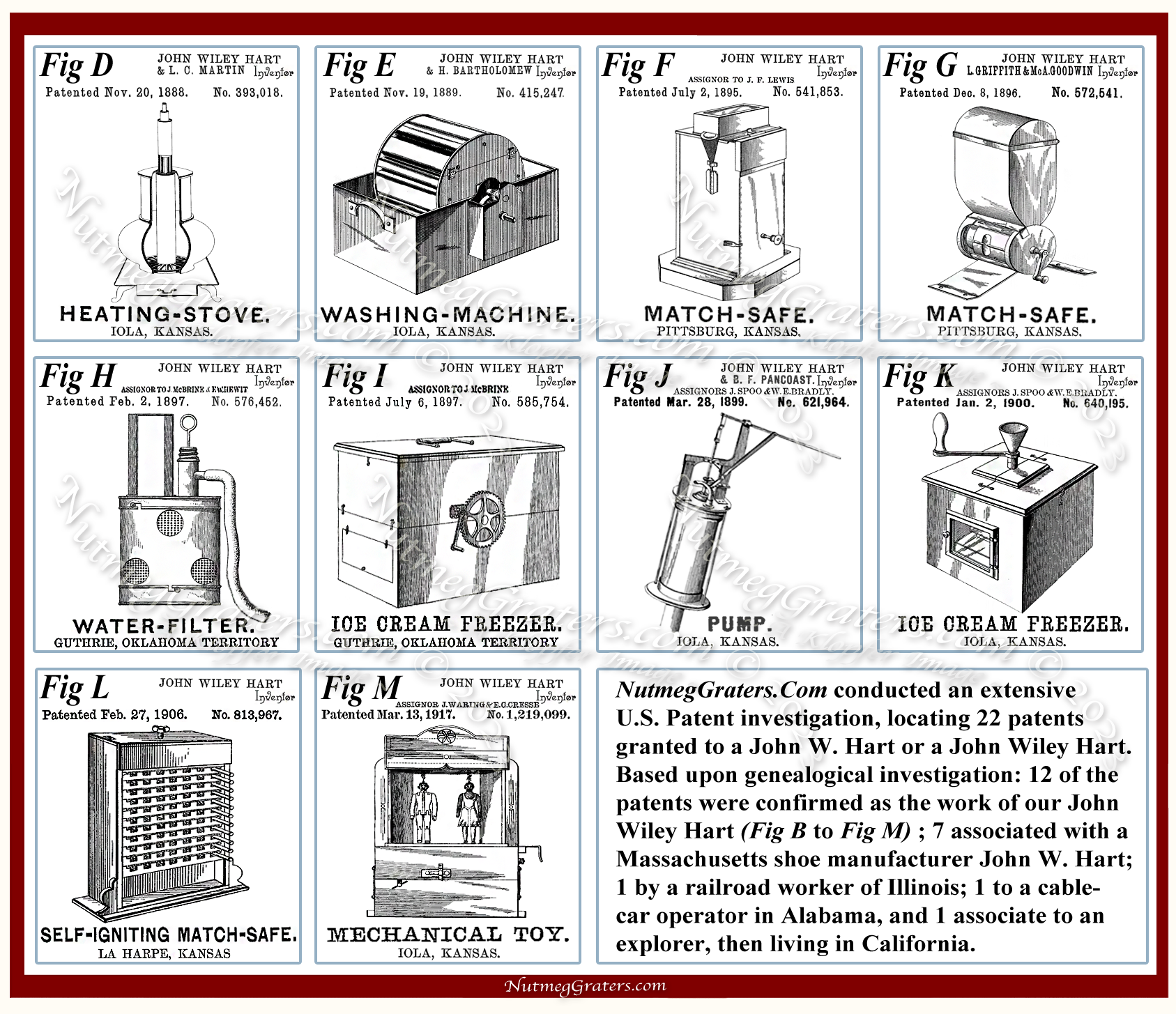 If either of the nutmeg graters (Fig B, Fig C) were ever actually produced, it seems they no longer exist. Finding these nutmeg grater products in today's world would be very, very rare; a unique discovery.

REFERENCES:
1 "Brief Histories of Allen County, Kansas" Allen County, Kansas ~ KANSAS TRAILS (Copyright © Genealogy Trails 2023).
2 Franklin, L.C. America In The Kitchen, From Hearth To Cookstove, House of Collectibles Pub. (1972): 115:Fig.569.
Help us find photographs of John Wiley Hart, William J. Kaemmerling, William Weaver, their products, their families, homes or businesses.
We would love to include these images with this research. Is anyone wishing to share their images?  Let us hear from you. Thanks you!
[KLOPFER article © January 2023]