[WELCOME:  My articles published on NutmegGraters.Com and commercially (elsewhere) required many years of primary research, personal expense, travel and much effort to publish.  This is provided for your enjoyment, it is required that if quoting my copyrighted text material, directly provide professionally appropriate references to me.  Images are unavailable for copy. Thank you  J. Klopfer.]
_______________________________________________________________________________________________________________________________________________________
Nutmeg Graters of Birmingham, England:
Makers: "Hilliard And Thomason ~
Silversmiths & Manufacturers of Fancy Goods"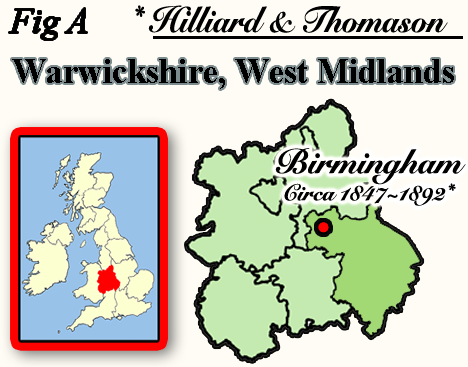 Among today's most sought after silver nutmeg graters are the Victorian examples manufactured by Hilliard & Thomason of Birmingham, England (Fig A). In partnership, John Hilliard (1816~1871) and John Thomason [Jr.] (1811~1892) selected a prime location to create an Italianate-styled factory for production of their "Fancy Silver Goods". During 1846 and 1847, Hilliard & Thomason fashioned their "purpose-built manufactory & quarters" on Spencer Street, near the intersection of Hall Street and Warstone Lane (B1, #1). As a typical "purpose-built" structure, a separate factory and an owner's living quarters were coupled together into a single complex (Fig B2). Their business began in earnest in January 1847, when Hilliard & Thomason entered their earliest "H&T" maker's mark with the Birmingham Assay Office [NOTE: later "H&T" marks were added: August 1859, April 1861, August 1875 and March 1888].[4]
It was during 1846 when the expansive Vyse estate area (north of Warstone Lane, Birmingham) became legally sanctioned for the construction of new streets and for the estate's subdivision into "as many small industrial building plots as possible" [3]. This authorization resulted in rapid northward expansion of Birmingham's famous Jewelry Quarter, including the establishing of Hilliard & Thomason's factory. While the 1847 Birmingham City Directory list only a single business on Spencer Street, the 1849 Directory lists several dozens of metals and jewelry businesses newly opened along this street. Among these listings in 1849 was "Hilliard & Thomason, silversmiths & manufacturers of Fancy Goods"; the factory was at 2 Spencer Street, coupled with the living quarters being at 1 Spencer Street.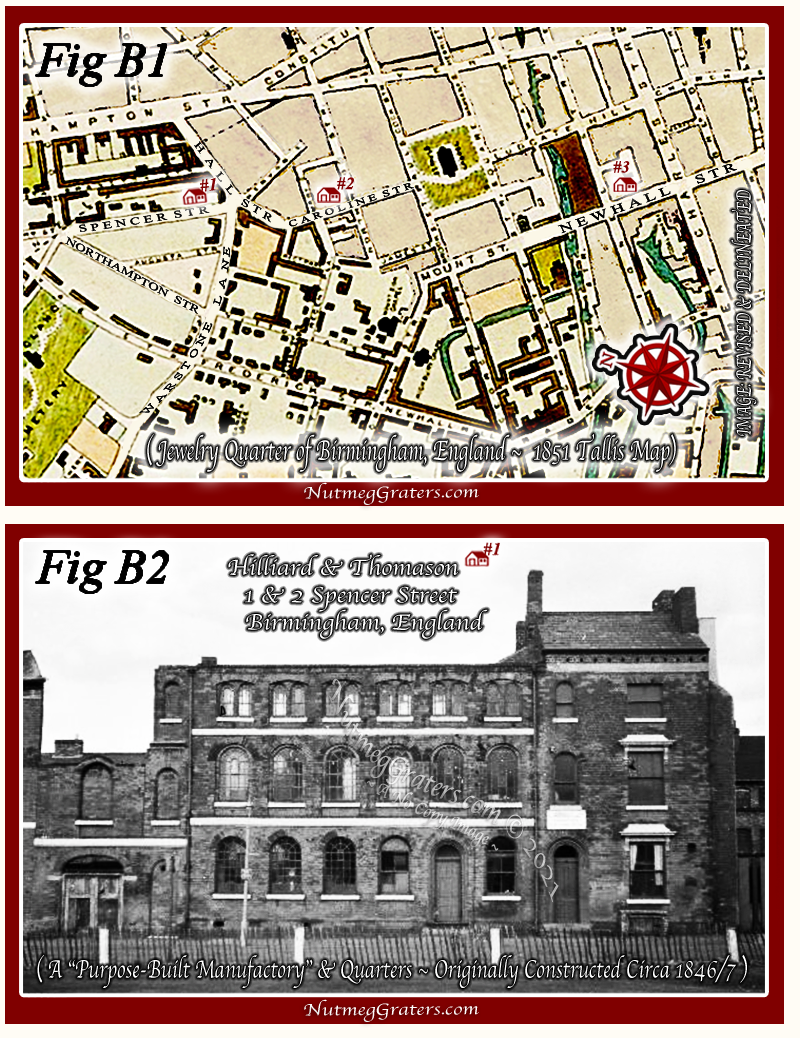 Prior to 1846, few public documents reference John Hilliard and almost nothing is available for John Thomason. Both men have family names well known in Birmingham's silver industry. John Hilliard's father was James Hilliard, a life-long silversmith. A Birmingham directory for 1830 lists George Unite and James Hilliard in partnership at "Great Hampton-st". One published source claims their goods are date-marked as early as 1822, where our product search substantiated their "U&H" maker's mark to date range from 1825 to 1833 [NOTE: after 1832, modern accounts imply (yet appear unverified) that James Hilliard remained employed working under Unite who registered his own solo maker's mark "GU" on August 1832, his business being at 42 Caroline Street]. Pertaining to this early period, the modern published accounts reported within current contemporary literature appear contradictory to what scant documents actually exist. At age 21, using the maker's mark "J•H" in "1837" [2], John Hilliard initiated his silver business, located for many years at 78 Buckingham Street, Birmingham. Better authenticated, John Hilliard's solo maker's mark "I•H" was registered "January 1838" [6], being "Seen on Flatware, knife blades" dating between "1839..1846" [5] John Thomason is the likely relative to the famous and ultra-wealthy industrialist/silver manufacturer Sir Edward Thomason (1769-1849). The silver manufacturing firm Sir Edward Thomason (last listed in the 1835 Birmingham City Directory) was sold at that time, becoming the George Richmond and Co. Within the 1841 census, both Hilliard and Thomason are separately identified as "silversmiths" (at ages 25 and 30, respectively), yet, Thomason's location of work is not known. Neither Hilliard's nor Thomason's apprenticeship as silversmiths has yet been identified. How these two men developed their partnership or from where their significant business funding originates require additional study to ascertain.



In 1851, "Hilliard & Thomason, Birmingham - Manufacturers" displayed a variety of silver goods at the Great Exhibition of Works of Industry of All Nations, London, England as listed in the exhibition catalog (Fig C1). During that same year, Hilliard & Thomason commissioned an advertisement published in The Visitor's Hand Book Through The Manufactories Of Birmingham (Fig C2). A third listing of "fancy silver goods" appears in the 1861 Corporation General & Trades Directory of Birmingham by William Cornish (Fig C3). While these sources list a large sampling of their "Fancy Silver Goods", none list nutmeg graters.
The Visitor's Hand Book ad of 1851 provides two important details: firstly, the advertisement includes Hilliard & Thomason's additional business address at [20] Caroline Street [location: (Fig B, #2)]; and secondly, it identifies Hilliard & Thomason as "successors to Taylor and Perry", being a firm located nearby at 71 Newhall Street [location: (Fig B, #3)]. Both addresses are a short walk from Hilliard & Thomason's new manufactory, all being within the heart of Birmingham's Jewelry Quarter.
Although an explanation for the purpose of the 20 Caroline Street address remains unclear, this location is noteworthy, situated in the midst of many prominent silver and jewelry firms, with detailed maps from this period indicating it as a large structure. If John Hilliard utilized this location prior to erecting the new Hilliard & Thomason Manufactory is uncertain. Possibly being a sales or distribution center, this location remained listed as part of Hilliard & Thomason for a decade [by 1861, the site is that of Charles J. Philip's Chandelier/Lamp Manufacturer, products "in the highest style of art"].
More important, this advertisement time-locks that the acquisition of Taylor & Perry occurred prior to the Hilliard & Thomason ad (published in 1851). An exhaustive product study of Taylor & Perry's date-marked silver articles found that their final products were manufactured in 1849 [based on NutmegGraters.Com's "Taylor and Perry Product Survey"]. Using this comparison, it appears that Hilliard & Thomason became successors to Taylor & Perry in 1850.
Hilliard & Thomason's earliest products were silver cutlery and simple silver jewelry. After Hilliard & Thomason acquired Taylor & Perry, they took over their assets and dissolved the other's company. Hilliard & Thomason obtained both equipment and skilled artisans to improve and diversify their own product lines into works of art. Some of Taylor & Perry's products, such as three nutmeg grater forms (detailed below, images noted using: * ), were simply continued as before, but now, bearing the "H&T" maker's mark.
From the factory's inception, John Hilliard took residence at the living quarters at 1 Spencer Street, while John Thomason continued to reside at his father's home on Hunters Lane, Handsworth, Staffordshire Borough. Records list John Hilliard as the "Master Silversmith" and it is imagined that he supervised the company's artfully designed "fancy silver goods". John Thomason seemed more administrative in trade matters, tasked in membership with other Birmingham firms, a representative of the jewelry trade and later served as a "Councillor of the City of Birmingham". Their business employed 36 workers, ranking them as a medium sized manufacturer. By 1858, John Thomason became the resident at 1 Spencer Street, while John Hilliard purchased his home on Metchley Lane, Parish of Harborne, Birmingham where he lived until his death.
From May through November 1862, Hilliard & Thomason displayed their products in London at the "International Exhibit of 1862" (A.K.A.: "The Great London Exposition"). This mammoth world's fair featured over 28,000 exhibitors from 36 countries. Hilliard & Thomason presented their "fancy silver goods" in an individual exhibit and also, jointly with 11 companies as exhibitor number: "6606, Birmingham Committee, Birmingham ~ Gold and silver jewelry; gold and silver plated jewelry, chains, &c." They were positioned at the "South Court, Central Division" of the fair ~ near one of the two main entrances, where over 6 million visitors could have viewed Hilliard & Thomason products upon entry.
John Hilliard died September 18, 1871 at the age of 55 and was buried in Harborne, where he resided. In 1873, the company name was changed to John Thomason (at times elsewhere listed as J. Thomason, J. Thomason & Co. or J. Thomason & Son) ~ the firm retaining its "Good" credit rating established on "The Birmingham Commercial List" (a credit-rating agency). Still, the business continued to hallmark all products with the "H&T" maker's mark. During this period, John Thomason relocated his residence to Wolverhampton Road, Birmingham. Between 1883 and 1884, Spencer Street was re-numbered, the factory's address converted to 1 & 3 Spencer Street.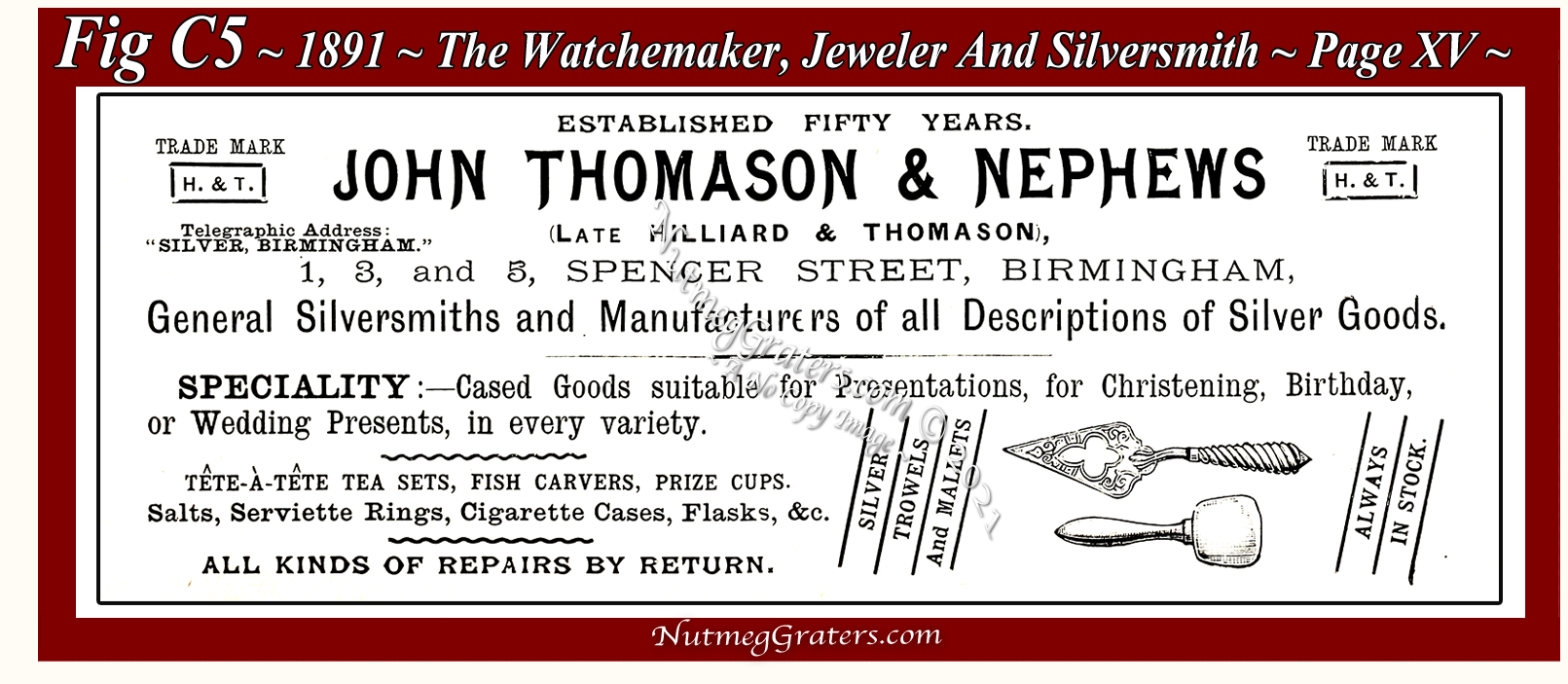 From August 26th to October 2nd 1886, John Thomason & Co. (Fig C4) was among 200 Birmingham businesses to display products at "The Exhibition of Local Manufactures And Natural History" at Bingley Hall, Birmingham. During this 6 week show, 400,000 visitors from Europe and America viewed decorative arts to heavy industrial equipment (such as powerful dynamos ~ the major draw for the fair). Although John Thomason & Co.'s display was extensive, again, nutmeg graters were not listed among the inventoried items.
In 1891, the business was joined by William Edwin Thomason and J. J. Richardson, re-established under the name J. Thomason & Nephews. The company advertised a variety of "Cased Goods suitable for Presentations" (Fig C5). Also that year, the company address became 1, 3, & 5 Spencer Street, suggesting the factory's expansion. It was reported that in the "last few years of increasing feebleness", John Thomason was aging, becoming increasingly deaf and blind. On April 13, 1892, John Thomason died at age 81. Under ownership of his descendants, J. Thomason & Nephews continued until 1906 .
For more than 40 years from 1851 to 1892, the firm produced silver nutmeg graters, an item apparently discontinued after John Thomason's death. Regardless to changing ownership or company name, both the trademarked company symbol (Fig C5) and the maker's mark remained "H&T" from 1847 until 1906. Over the next 20 years, the company merged and transferred ownership through family descendants and others. These later owners and company names are reported as:

Thomason & Haseler Brothers Ltd (1906~1910) [1]
Thomason & Haseler Brothers (1910~1920)
Haseler & Bill 1920~1924)
[Purchased by J. B. Chatterley & Sons Ltd. 1924]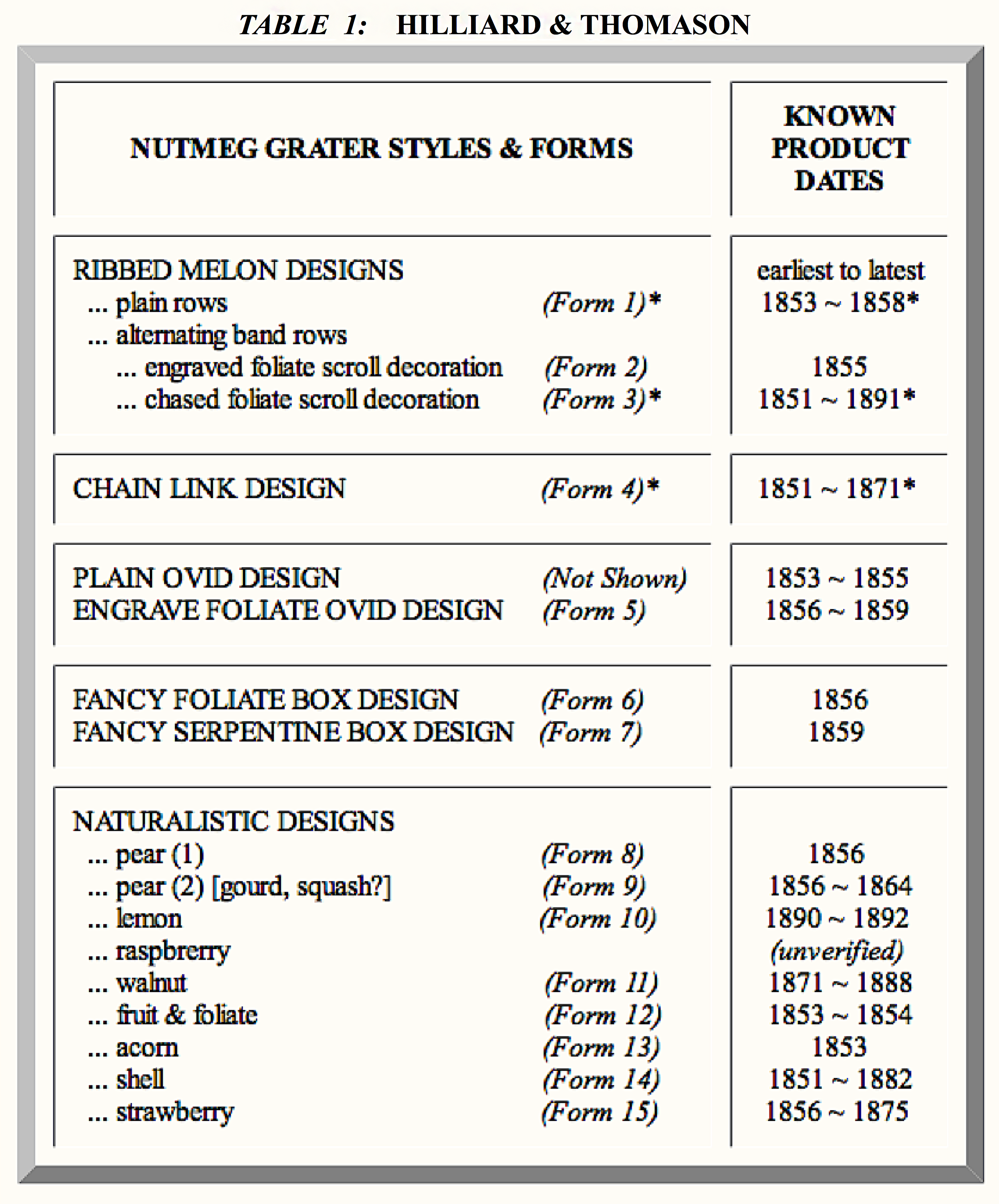 HILLIARD AND THOMASON made a variety of prolate formed
NUTMEG GRATERS (A.K.A.: elliptic or melon shaped):
During the Victorian period (1837 to 1901), nutmeg graters evolved into larger sizes, being designed in the more modern forms of that period. Becoming sophisticated forms of art in silver, they were less likely to be small with expectations for carrying them inside one's pocket. Treasured as distinctive novelties or unique status symbols, these were commonly script~engraved as remembrances, awards or personalized gifts.
With technological advancements in silver fabrication, by 1831 Taylor & Perry were the first to perfect the prolate (or "melon") form nutmeg grater, which they produced in a handful of variations through 1849. By 1851 Hilliard & Thomason acquired both the equipment and skilled artisans from Taylor & Perry allowing them to continue production of these same nutmeg graters, now maker marked "H&T" [SEE: three examples by Hilliard & Thomason (Fig D: Form 1*, Form 3*, and Form 4*) ]. In a side by side comparison between examples from both manufacturers, one finds no distinguishable dissimilarity between the nutmeg graters by either firm, other than their company's maker's marks and date marks. 
Also in 1851, Hilliard & Thomason introduced their first figural nutmeg grater in the form of a cockle shell: one rare example made only in 1851 (Fig E) is decorated with delicate scrolling-floriate engraving; while the other more common style of this form (being manufactured from 1851 through 1882) is decorated profusely with hand chased edging ~ Form 6 (Fig D). In 1981, Alfred Carl, an executive with International Sterling, described the chased shell type as "a small masterpiece" demonstrating a "great deal of hand worked chasing". "This required a very skilled craftsmen, a great deal of time and expertise." he said.
Hilliard & Thomason perfected the art of "die stamping" small hollowware nutmeg graters. Between 1851 and 1892, Hilliard & Thomason introduced a variety of distinctive nutmeg grater styles and forms, among which 14 different examples are documented by NutmegGraters.Com, (Table 1) and (Fig D). Listed in (Table 1) but not illustrated within (Fig D), the PLAIN OVID example with simple engraved decoration is pictured in The Robert And Meredith Green Collection of Silver Nutmeg Graters Page 42 Item №. 61 (2002).  
Most unique are the figural nutmeg graters that reflect objects found in nature ~ the "Naturalistic Forms" were created as a: melon, shell, strawberry, pear, pear/gourd, lemon, walnut, and the fruit & leaves ensemble. One example remaining in question is the existence of the "raspberry" form. In 1976, Richard H. Jenkins, a silver dealer from North Eastern, USA drew this authors attention to the strawberry nutmeg grater, explaining that he "had missed out on the rarer raspberry" …form… "the only one I've ever known about", he said. Currently, it is questionable that one really ever existed, yet this author still retain the notes written so many years ago ~ but, still wondering.
Steven Smithers, of Smithers Restorations, is a master silversmith. In 2019, he analyzed construction methods with two of Hilliard & Thomason nutmeg graters. "All these products are first die stamped" ...into form; "die stamping dates to the 1750's or 1760's", he clarified. Once formed, the chain link design receives "hand stipple chasing" to cover the entire background surfaces. This provides "texturing for refined decoration ~ a master chaser comes into play here!" The strawberry form "requires less hand work"; it relies on the initial "die stamped form to create its main feature details". "There is some 'chasing' to the leaves, but otherwise, this example required much less hand workmanship".
(Table 1), the "Known Product Dates/earliest to latest" data was gathered over many years, using available information obtained randomly from publications, private and public collections, and auction / retail sales listings. The current data collection is considered "suggestive", rather than "finite"; being based only on available examples collected incidentally. To determine more expansive and "definitive" production dates with each of Hilliard & Thomason's nutmeg grater forms, continued investigation is needed to augment this data when newly discovered examples are found that bear date marks beyond those already documented.
Among the variety of Hilliard & Thomason nutmeg graters, the three most commonly seen are (Form 3) the chased foliate scroll ribbed melon, (Form 4) the chain link design melon, and (Form 6) the cockle shell; each form being manufactured over many years. The most sought after and expensive is (Form 7) the strawberry, often ranging with current auction prices about $7500.00, and with retail prices seen as high as $15,000.00. The rarest types are (Form 5) the fancy box design, (Form 7) the strawberry, (Forms 8 & 9) the pear, and (Form 10) the lemon. Hilliard & Thomason nutmeg graters are desirable to modern collectors because of their rarity and their uniquely beautiful designs. Collectors love them.
REFERENCES:
1 Culme, J. The Directory of Gold & Silversmiths,Jewellers & Allied Traders 1838-1914, V. I; Antique Collector' Club Printed in England,
ISBN: 0 907462 46 4, (2000): 446-447.
2 Foster, R. "English Silversmiths and Their Marks; Part VII, #29", The Jewelers' Circular, (July 12, 1899): 7.
3 Jewelry Quarter Conservation Area, Character Appraisal and Management Plan, Birmingham City Council Planning Department, (January 18, 2002): Part 2, 12-13.
4 Salter, J. Wine Labels 1730~2003 A Worldwide History, Antique Collectors' Club, Printed in England, ISBN: 1 85149 459 6, (2004): 244.
5 Silvermakers.co.uk
6 Johnes, K. C. The Silversmiths of Birmingham and their Marks: 1750-1980, N.A.G. Press London ISBN 7198 0002 1 (1981):347.
Help us find photographs of John Hilliard or John Thomason. We would love to include their images with this article. Let us hear
from you. Thanks you!
[KLOPFER article © January 2021]