[WELCOME:  My articles published on NutmegGraters.Com and commercially (elsewhere) required many years of primary research, personal expense, travel and much effort to publish.  This is provided for your enjoyment, it is required that if quoting my copyrighted text material, directly provide professionally appropriate references to me.  Images are unavailable for copy. Thank you  J. Klopfer.]
_______________________________________________________________________________________________________________________________________________________
The Nutmeg Fruit & Leaf Wall Pocket Planter ~
With the O. F. H. Nutmeg Grater on the back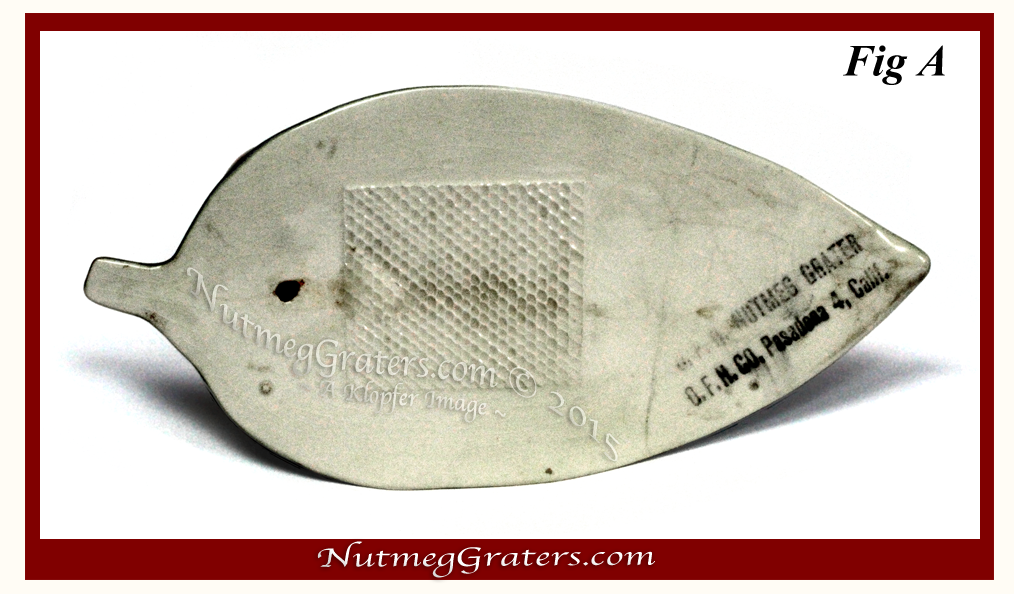 Numerous publications describe that the California Pottery industry most actively produced ceramic and porcelain wears from the 1930's into the 1960's. Their products were household ceramics, including tableware, kitchenware, wall decoration, giftware, and artistic items.
One significant sub-grouping is Pasadena Pottery. The O. F. H. CO. NUTMEG GRATER is a product by the O. F. H. CO. of Pasadena 4, Calif. Pasadena California was a manufacturing hub listing more than 25 well documented ceramic and porcelain firms. Typical to many smaller California potteries, the O. F. H. CO. remains obscure. An exhaustive search through Pasadena city records, the city library holdings and historical society archives yielded no evidence pertaining to the existence of the O. F. H. CO. of Pasadena. This firm was never listed in the city directories and was probably a small, short lived enterprise.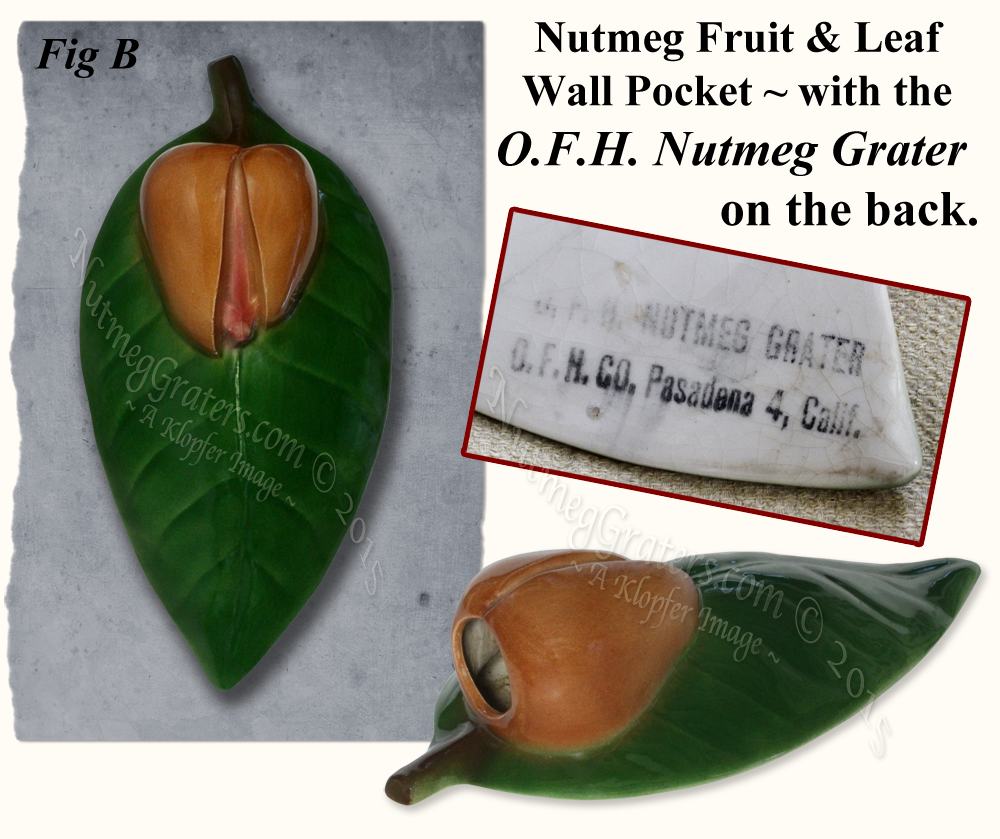 The Nutmeg Fruit & Leaf Wall Pocket Planter (Fig B) measures 8¾ inches long, 4⅓ inches wide, 2¼ inches deep (200mm X 106mm X 55mm). Its design accurately represents the scale and size of the actual fruit and the leaf, being in perfect proportions as found on the nutmeg tree. The coloration of the ceramics captures a life-like representation of Myristica moschata. An interesting novelty, the O. F. H. nutmeg grater found on the reverse of the wall pocket planter more closely resembles graters best used with softer spices, such as ginger root, rather than the hardened nutmeg (Fig A).
The address listed on back of the wall pocket helps to establish its production date. The United States Postal Service instituted "District Codes" in 1943. "Pasadena 4" indicates the 4th postal "zone number", locating this address to the South-Eastern area of Pasadena and in vicinity to the California Institute of Technology. The postal service replaced "District Code" with the ZipCode system in 1963. With certainty, this item was made between 1943 and 1963. To refine the production date farther, educated "guesses" by both wall pocket and California pottery collectors say that tropical designs were most popular themes in California Pottery during the late 1940's and into the mid 1950's.
Although rare, several of these decorative Nutmeg Fruit & Leaf Wall Pocket Planters are known.
[KLOPFER article © January 2015]