~ The Trading Post ~
Market your unusual nutmeg graters; myristica botanical prints or engravings; associated ephemera, historical maps or early advertisements; and nutmeg related books, or articles on The Trading Post page, free from charge. Museum or Collector's Club announcements are welcome. NutmegGraters.Com will place your images and announcements here, and link them to your site. Contact us for details. To date, NutmegGraters.Com has welcomed over 30,000 visitors.

Recommended Services for Collectors And Researchers ~ NutmegGraters.Com is pleased to recommend the following craftsmen and businesses!
Smithers Restorations, Stephen Smithers Master Silversmith, 1057 Hawley Road, Ashfield, Massachusetts, 01330; (413) 625-2994; e~mail: stevesmithers@stevesmithers.com.

Stephen Smithers, silversmith and master craftsmen, began his business in 1975. His skill with restoration and conservation of antique metals is exceptional. He is a museum and college lecturer, author, historian, and educator pertaining to fine metals. As an expert's expert ~ Mr. Smithers has rendered both educational and restoration services to some of America's most prestigious museums, historical societies and universities (including but not limited to: The Metropolitan Museum of Art, Winterthur Museum, The New York Historical Society, Historic Deerfield, The Sterling and Francine Clark Art Institute, Wadsworth Atheneum, and too many more than can be listed). His services are sought by private collectors, too!

"One worry," says Stephen Smithers, "is that the skills of early silversmithing and metal work will become lost as a craft. . . . my hope is to preserve this trade into the future. To lose this ~ well, wouldn't that be just the saddest thing." Stephen's son, Christopher Smithers has followed in his father's footsteps. Regularly, both men work together on restoration or construction projects. The Smithers create new works as well. Their results will amaze you!

NutmegGraters.Com is very please to recommend Smithers Restorations to our viewers. This is a business highly expert to meet all your restoration and conservation needs with silver, brass, bronze, and other fine metals. We highly recommend them!



I Spy A Smart Buy ~
Currently featured submissions by viewers: *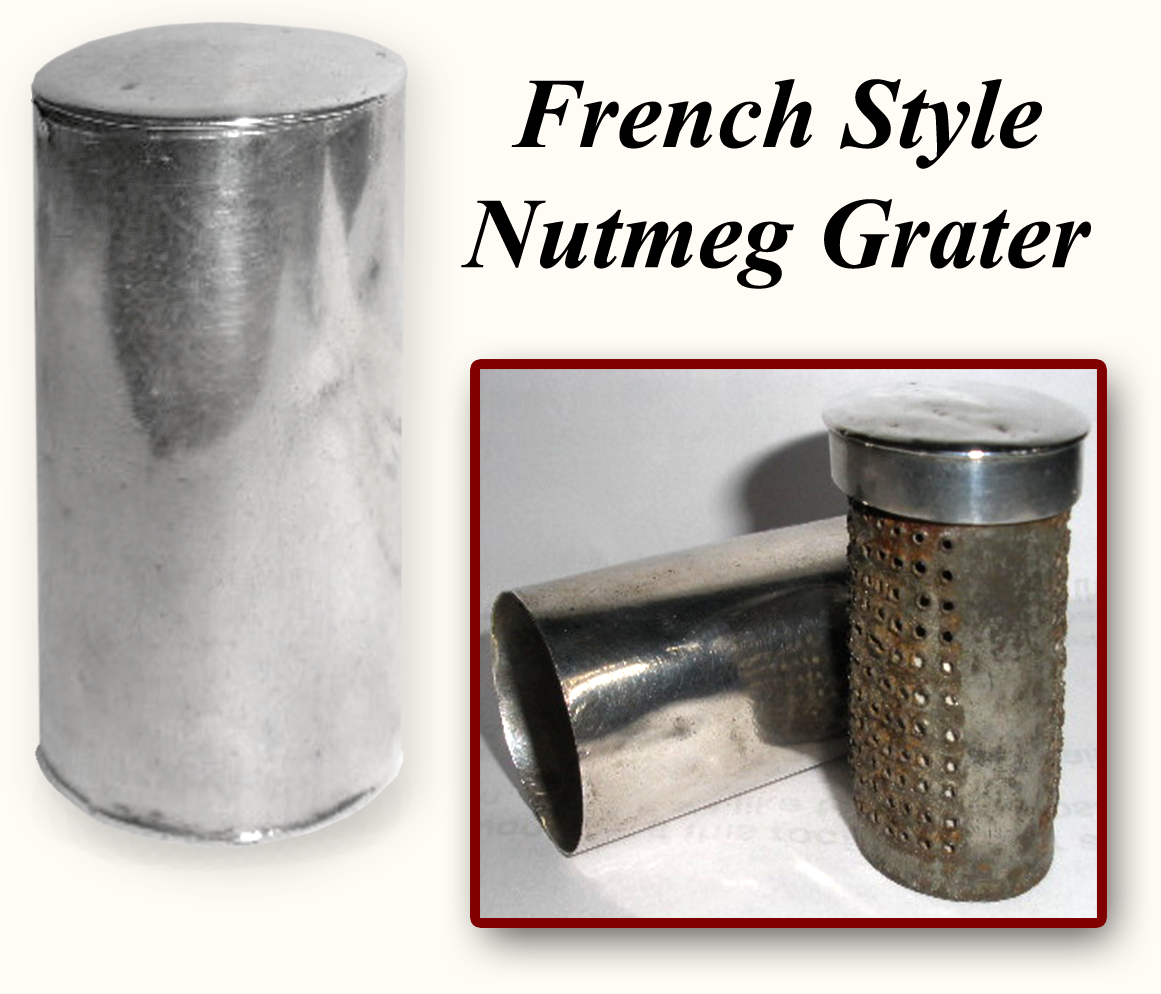 Pictured is a "French Style" nutmeg grater. This form is known in silver plate, nickel plate (also called German silver), tin plate, and occasionally in silver. Arthur Ritter describes that "It is silver" but "unmarked".
Notice that this example has a tin grate with evenly punched holes, which NutmegGraters.Com believes dates this prior to the 1870's.
Mr. Ritter is asking, $200.oo or Best Offer. Contact at: Arthur Wm. Ritter, Old Friends Antiques, 2722 Sandhurst Lane, Midlothian, Virginia 23113~2240; artritter@comcast.net; 804.794.2779.
~ Current Availability Uncertain ~



Patricia Funt Antiques; Patricia Funt Oxman and Ken Oxman, PO Box 112 New Canaan CT 06840; (203) 966~6160 ;
e-mail: pf@patriciafuntantiques.com

Patricia Funt has been selling antiques for over twenty years. For over ten years her business, Patricia Funt Gallery, was open at 50½ East 78th Street, near Madison Avenue in New York City, followed by 10 more years running a shop on Main Street, New Canaan, CT (now closed). Currently, Patricia Funt Antiques sells only via her on-line store at rubylane.com, at various antique shows or by appointment. Among her large variety of antiques, Patricia enjoys an assortment of antique nutmeg graters, one of her specialties.
Interesting items sell quickly and items pictured here are subject to prior sales. New items arrive regularly, so collectors are welcome to visit her website often and see what is currently available. All are invited.


Recommended Books for Collectors And Researchers ~
Currently available to collectors, there are three MUST HAVE publications focused entirely on nutmeg graters!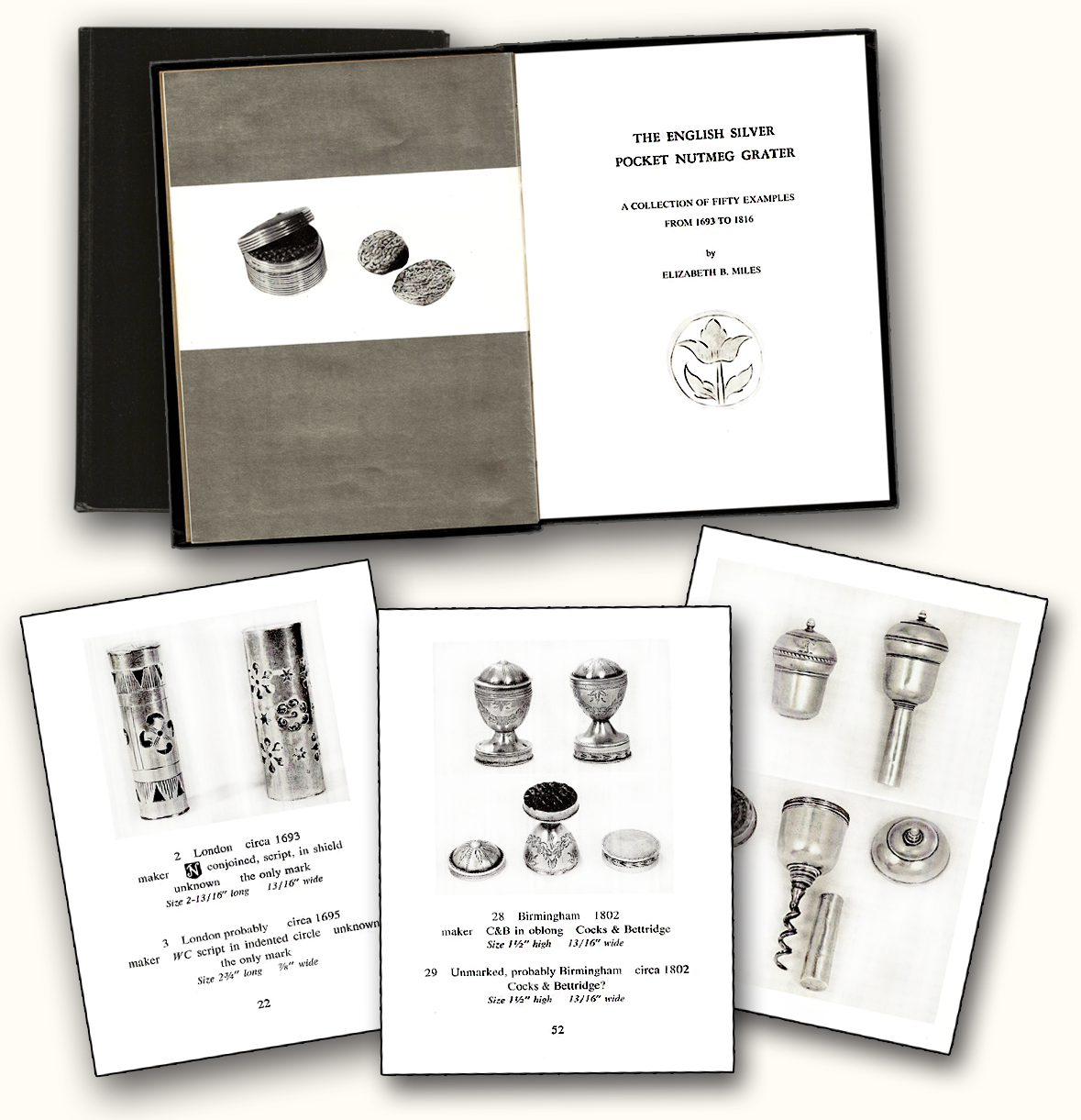 Elizabeth B. Miles, The English Silver Pocket Nutmeg Grater ~ A Collection of Fifty Examples From 1693 to 1816 (Cleveland, Ohio: CW Printing, 1966).
Elizabeth B. Miles collected and researched a broad spectrum of important English silver, but English silver pocket nutmeg graters were of special interest to her. She privately published her book of her collection in the spring of 1966. Later that same year, she wrote a parallel article "The English silver pocket nutmeg grater" that appeared in Antiques Magazine, Pages 828 ~ 831, December 1966.
In 1976, the Wadsworth Atheneum, Hartford, Connecticut, USA hosted a major silver exhibition to display her entire silver collection. Among information contained within the associated collection catalog: The Elizabeth B. Mile Collection of English Silver (Meriden, Connecticut: Meriden Gravure Company; Copyright ~ Wadsworth Atheneum, Hartford, Connecticut, 1976), it is noted that her collection of English silver nutmeg graters was "Presented to the Lyman Allyn Museum, New London, Connecticut, in 1967". The current where about of the collection appears "unknown", and multiple museum contacts by NutmegGraters.Com are met with non-responsiveness, inaccessibility and unavailability. Currently, no one seems aware of the collection.
The English Silver Pocket Nutmeg Grater is the first text to feature an historical account pertaining to silver nutmeg graters. It is a must have for any serious collector. Out of print, it is available on-line through a variety of used book sellers ~ hunt for books in the best condition, and at a reasonable price. ]



John D. Davis, The Robert And Meredith Green Collection of Silver Nutmeg Graters (Hanover, New Hampshire: The Colonial Williamsburg Foundation, Williamsburg, Virginia & University Press of New England, Hanover, New Hampshire, 2002; ISBN 0879352175).
Drs. Robert and Meredith Green began collecting silver nutmeg graters in 1959, resulting in this life long passion. After Dr. Robert Green passed away on February 2, 2000, John D. Davis, the then Senior Curator of Metals at Colonial Williamsburg, authored this book to illustrate the Green's collection, supporting the text with inclusion from many of Dr. Green's research notes. Dr. Meredith Green passed away on September 28, 2005.
The Robert and Meredith Green Collection of Silver Nutmeg Graters featured approximately 130 English and American silver nutmeg graters. The Green's collection remained on exhibition at Colonial Williamsburg's DeWitt Wallace Decorative Arts Museum (Williamsburg, Virginia 23185, USA) from 1999 until 2010 but is no longer on display.
Available new or used, The Robert And Meredith Green collection of Silver Nutmeg Graters may be obtained through a number of on-line book sellers.





Carol J. Bohn, American Patented Nutmeg Graters 1854 ~ 1935 ...Plus! (USA: Heritage Printers, 2015; ISBN 978-0-692-51089-6).
Dr. James and Carol Bohn began their antiques collecting in the early 1970's. Having a special interest in rare tin and scarce mechanical kitchen wares, Mrs. Bohn founded KOOKS (Kollectors of Old Kitchen Stuff) on May 18, 1993, an international organization which ran for 25 years until recently coming to a close. Mrs. Bohn is known world~wide for her extraordinary collection of American mechanical nutmeg graters.
Within its 532 pages, American Patented Nutmeg Graters 1854 ~ 1935 ...Plus! contains 600 impeccable photographs and comprehensive details for 136 patents. As a life long endeavour, this text is an amazing accomplishment ~ an essential reference for both the collector and the researcher. In addition to information on nutmeg graters, readers are provided an in depth index of associated patentees and patent dates. The Selected Nutmeg Grater Thumbnails is a special feature that provides readers with a quick and convenient see-at-a-glance reference method to locate 100 mechanical nutmeg graters (See example page: to the left).
The book's current price is $75.00, plus shipping and handling. An exceptional reference, American Patented Nutmeg Graters 1854 ~ 1935 ...Plus! is only available directly from its author: to purchase please contact Bohn's Antiques.

Sorry It's Sold ~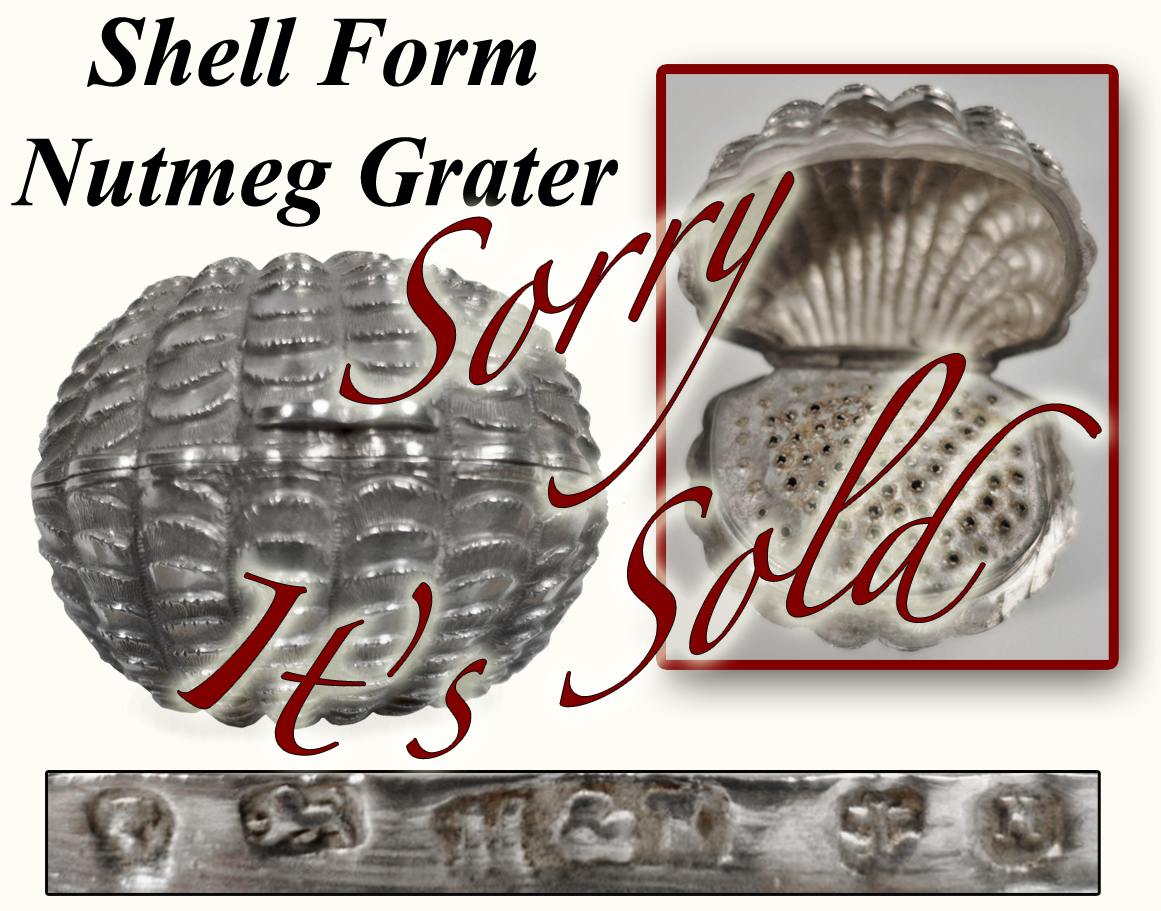 This "Shell Style" silver nutmeg grater bears hallmarks for Hilliard & Thomason of Birmingham, England with a date mark of "N" for 1862/3 ( or "H" for 1856/7).
NutmegGraters.Com has documented that Hilliard &Thomason began producing this shell form nutmeg grater at least by 1854 and continued its production into the 1890's. With this example, there appears thick soldering along the edge of the grate. Upon examination of a similar example from our collection, Alfred Carl (deceased) of International Silver Company stated that "A great deal of hand chased work was required when finishing the scalloped edging to these nutmeg graters ~ that is a lot of skilled workmenship."
Butler and Butler Gallery of Bradenton, Florida have priced this item ID: RL-1418 (was ~ $1100.oo) now on sale for $925.oo on Ruby Lane. [Sorry, it's SOLD ~ NOW SHOWN IN ARCHIVES]




Photographed here is an "Antique Tower Coquilla Nutmeg Grater With Treen Compartment".Constructed from a combination of coquilla nut and "fancy imported" hardwoods, these table nutmeg graters date Circa 1840. The acorn form pocket nutmeg grater was made from a coquilla nut and features an ivory/bone framed tin grate.
Currently featured for sale on Opus Antiques, a website store located in the United Kingdom; Opus Antiques describes the Antique Table Nutmeg Grater as: "An early 19th century table coquilla nutmeg grater. Two sections with threaded finial in the shape of an acorn which unscrews to reveal the grater. Turned stem, with a  basket weave base with lid which unscrews for storage. ~ 15.5cm h x 6cm w." ; price listed at £365.oo.
Contact information is listed on their expansive website: Opus Antiques, United Kingdom. More information : opusantiques@hotmail.co.uk | http://www.opusantiques.co.uk/.
Telephone: 07941285532.
[Sorry, it's SOLD ~ NOW SHOWN IN ARCHIVES]






* NOTICE: Any information listed or provided on the NutmegGrater.Com ~ Trading Post is intended as a courtesy for our readers; NutmegGraters.Com makes no guaranty nor warranty, whether expressed or implied, with respect to accuracy or honesty of any third party listing. Although NutmegGraters.Com offers all content in our best attempt at "a good faith" effort to our readers, note that when making contact and/or agreements with any third party, it is conducted at your own risk. NutmegGraters.Com recommends that buyer always investigate for hidden flaws and repairs when buying on-line. NutmegGraters.Com assumes no liability or responsibility regarding third party vendors.
[last~updated: January 2018]