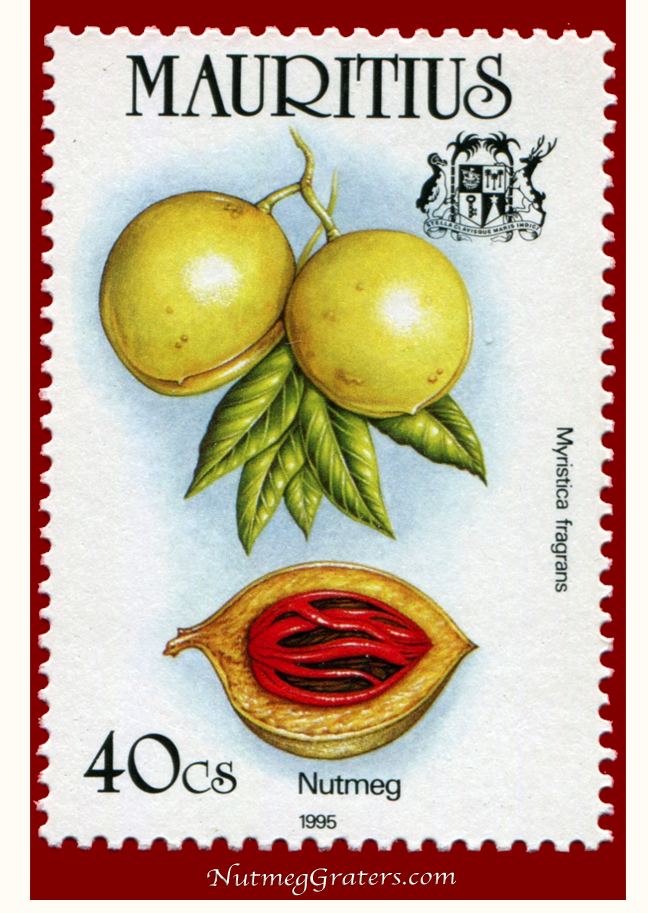 "Nutmeg 1995 ~ Myristica Fragrans" ~ Mauritius - Nature Series: Spices ~ Postal Stamps

SERIES: Nature Series: Spices ~ Nutmeg (Myristica fragrans).
DATE OF ISSUE: March 10, 1995.
DENOMINATIONS & IMAGE:
Rs4 Coriander (Coriandrum sativum)
Rs5 Cloves (Syzygium aromaticum)
Rs10 Cardamom (Elettaria cardamomum)
40Cs Nutmeg (Myristica fragrans)
STAMP SIZE: 28mm by 43mm.
PERFORATION: 20 by 30.
PRINTING PROCESS: Offset Lithography.
SHEET CONTENT: Unavailable.
ARMORIAL: The Official Coat Of Arms of Mauritius.
MOTTO: Stella Clavisque Maris Indici (Star and Key of the Indian Ocean)

HISTORY: Located east from Madagascar, the Dutch first identified this Indian Ocean island as Mauritius, during the 17th century. In 1715, the French took possession, renaming it the Isle de France. Under the French East India Company, and when a French colony during the 1750's, the explorer Pierre Poivre first imported nutmeg trees and other spices into the island. Specifically focused on the nutmeg and mace trade, Poivre hoped to break the Dutch nutmeg monopoly. To Poivre's disappointment, his earliest attempts to establish nutmeg trees failed due to lack of care by the French care-takers assigned to this duty during his long absences at sea. Within the years that followed, Poivre re-introduced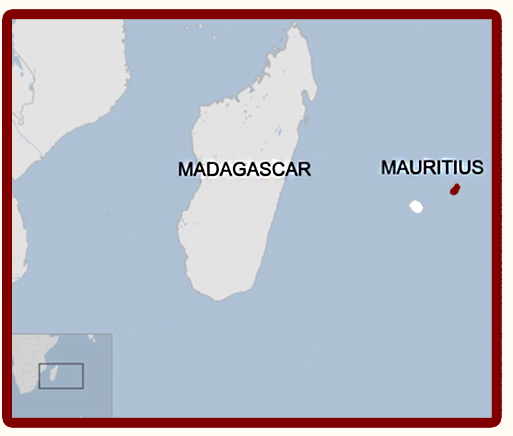 new nutmeg trees along with other in-demand spices: clove, cinnamon, and pepper. At the Pamplemousses Gardens (now named the Sir Seewoosagur Ramgoolam Botanical Garden), it is reported that Poivre imported more than 600 rare and important plants to the island. The cultivation of nutmeg trees (Myristica fragrans) resulted only in modest success, and trade in this commodity never successfully rivaled production to that of the Banda Islands, nor the Caribbean Islands (following transplantation of these trees into the West). Instead of broadening this area of the spice trade, the French capitalized instead on more lucrative areas in trade.
When the island fell under British control in 1815, its name was reverted back to Mauritius; yet, spice export continued. On March 12, 1968, Mauritius became an independent state within the British Commonwealth. According to current economic trade profiles, Mauritius's trade in nutmeg, mace and cardamom is of very minor importance among its material resources, with these commodities being exported primarily to Germany.
One of the oldest institutions in Mauritius is its postal department, established in 1772. Currently called The Mauritius Post LTD., it is centralized in Port Louis, Mauritius with 78 locations and generates $14 million (U.S.A. dollars) per annum. This "first day of issue" of the Mauritius postal stamps Nature Series: Spices was released on March 10, 1995 to celebrate the island's lengthy spice history with: Coriander, Cloves Cardamom and Nutmeg. Interestingly, none of these historic exports are native to the island. Being introduced to Mauritius nearing 300 years ago, these spices played significant importance in the past, toward the agricultural development on the island today.
[KLOPFER article © September 2021]