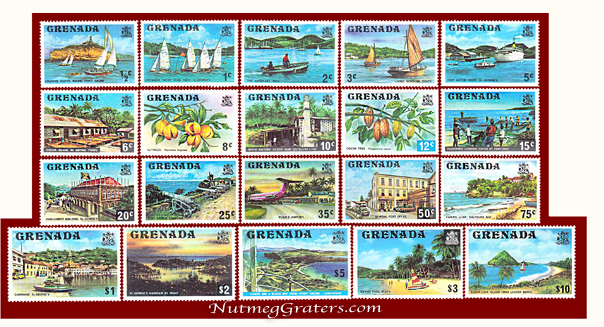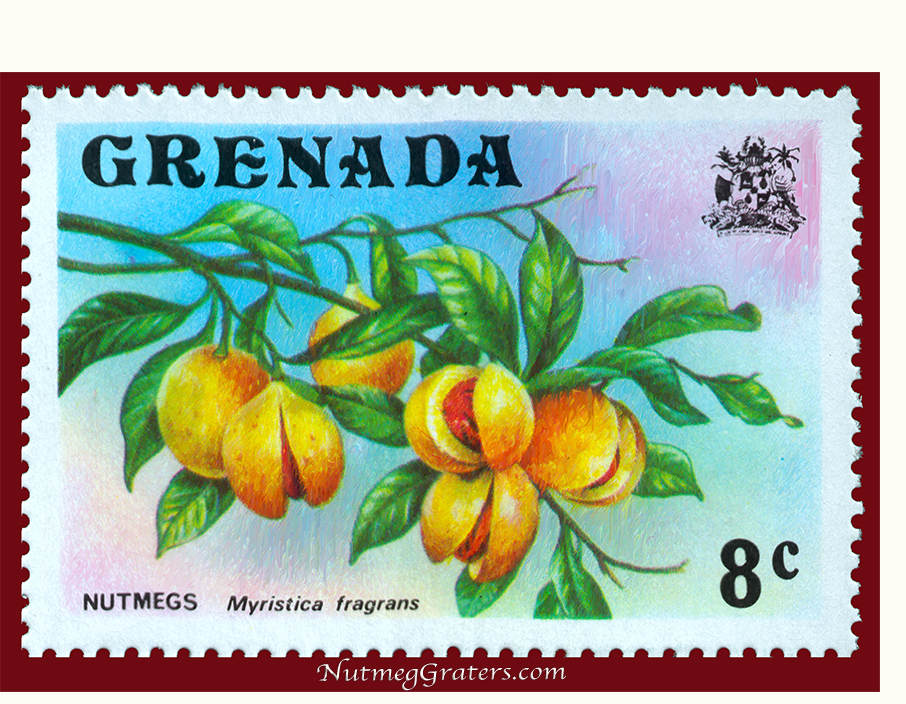 "Nutmeg Myristica
Fragrans"
March 2, 1975 "Definitive Series"
Postal Stamp

SERIES: 1975 Definitive Series-Images of Grenada
DATE OF ISSUE: March 2, 1975.
DENOMINATIONS & IMAGE:
½ c Yachts and Point Saline
1c Grenada Yacht Club Race St. Georges
2c Careenage Boat Taxi
3c Large Working Boats
5c Deep Water Dock St. Georges
6c Cacao Beans in Drying Trays
8c Nutmeg Branch
10c River Antoine Estate Rum Distillery
12c Cacao Branch
15c Fishermen Landing Catch at Fontenoy
20c Parliament Building St. Georges
25c Fort George Cannon,
35c Pearls Airport
50c General Post Office
75c Carib Leap Sauteurs Bay
$1 Careenage St. Georges
$2 St. Georges Harbor at Night
$3 Grand Anse Beach
$5 Canoe Bay and Black Bay from Point Saline Lighthouse
$10 Sugar-loaf Island from Levera Beach
STAMP SIZE: 30mm by 42mm.
PERFORATION: 21 by 31.
PAPER: Unwatermaked.
PRINTING PROCESS: Offset Lithography.
SHEET CONTENT: 50 stamps per sheet.
PRINTER/DESIGNER: Formate International Security Printers Ltd. , London, England.
[This company was liquidated in the mid~1990's.]
HISTORY:
Formate International Security Printers Ltd. was the designated Public Postal Licensee for Grenada. On March 2, 1975, Grenada's General Post Office released this "definitive series" of twenty stamps as the replacement of Grenada's earlier 1968 "definitive series". The stamp set illustrates key locations throughout the island and two cash crops ~ being the nutmeg and cocoa.

Nicknamed "The Isle of Spice," Grenada is an island in the Caribbean, being one of the last major international growers to import and commercially cultivate the nutmeg tree. Siting Groome (1970), the Grenada National Trust reports that in 1843, nutmeg was first imported from the Banda Islands into Grenada in seed form by the Hon. Frank Gurney. These early trees, cultivated on the Belvidere Estate in the St. John Parish, were introduced as exotic ornamentals, rather than envisioned as a cash crop. When in the 1850's, the major world growers of nutmeg in the Straits Settlements, Malay Peninsula (Penang, Singapore and Province Wellesley) suffered a myristica blight, their nutmeg plantations were totally decimated. Aware of this disaster, Grenada's horticulturists took advantage of this situation in the 1860's by planting large numbers of nutmeg plantations which achieved economic success starting by the late 1870's. Today, Grenada is a major world supplier in nutmegs. In commemoration of this, Grenada features their important spice ~ NUTMEGS Myristica fragrans ~ within this "definitive series" of postage stamps.
[KLOPFER article © January 2014]