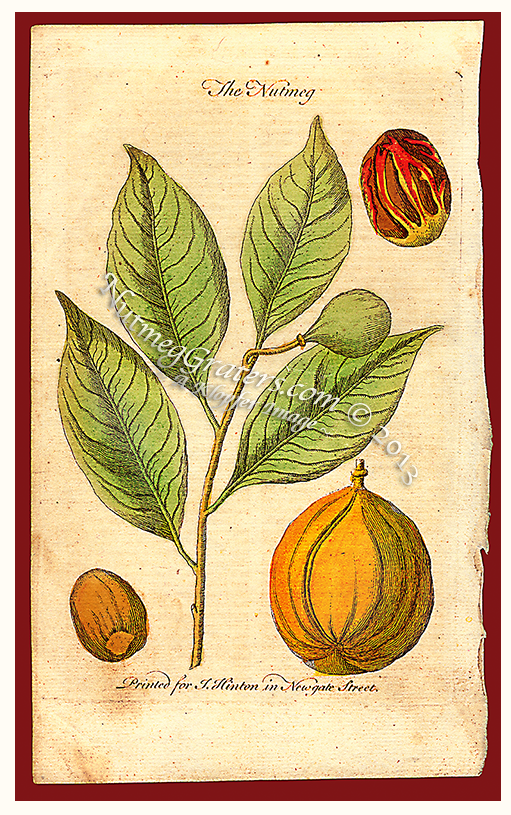 "The Nutmeg" ~ 1757 ~ Hinton ~ Universal Magazine of Knowledge & Pleasure


PRINT ENTITLED: "The Nutmeg ~ Printed for J. Hinton in Newgate Street".
SOURCE: Universal Magazine of Knowledge & Pleasure.
PRINTED FOR: "J. Hinton in Newgate Street." (London).
DATE OF PUBLICATION: January 1757.
SCOPE AND PURPOSE OF PUBLICATION: A gentleman's magazine and historical chronicle pertaining to culture, commerce and invention.
PRINT METHOD: Copperplate engraving; a plate mark identifying the intaglio process.
PAPER TYPE: Handmade antique laid and chain ~ link paper, bearing no water mark.
COLORING: Hand Coloring (Source Page 13: "With the Nutmeg Plant and Fruit, coloured from Nature").



HISTORY: The Universal Magazine of Knowledge and Pleasure was published from 1747 through 1814 in London. It was a Gentleman's Magazine containing "news, letters, debates, poetry, musick, biography, history, geography, voyages, criticism, translations, philosophy, mathematicks, husbandry, gardening, cookery, chemistry, mechanicks, trade, navigation, architecture and other arts and sciences; which may render it instructive & entertaining to gentry, merchants, farmers and tradesmen." It was published by John Hinton and contained "many instructive plates, usually with keys."
[KLOPFER article © September 2013]