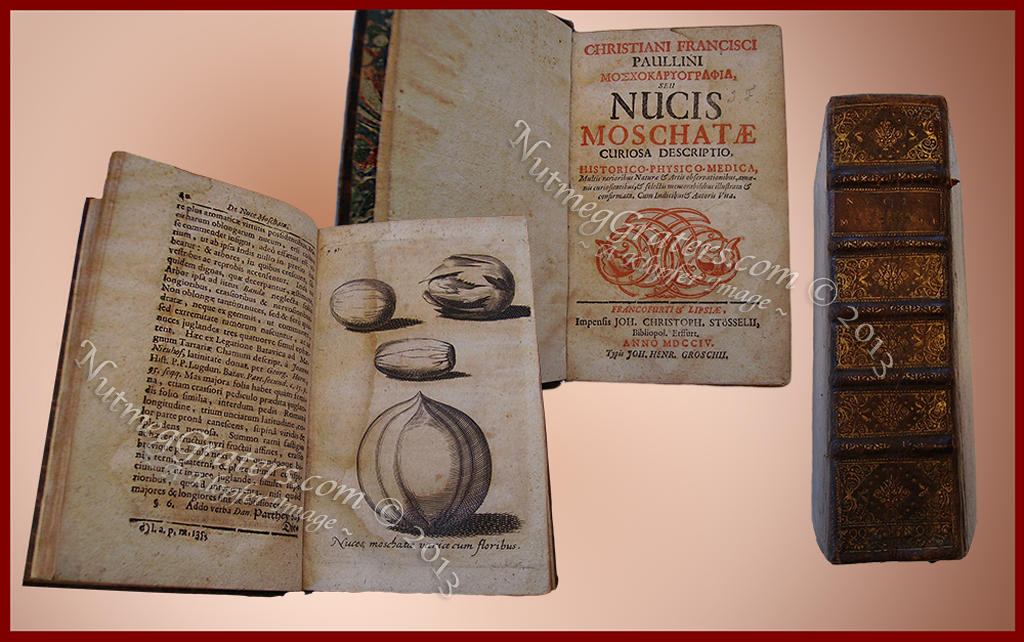 "Nuces Moschata Varice Cum Floribus"
~ 1704 ~ Paullini ~ Nucis Moschatæ Curiosa
Descriptio, Historico-Physico-Medica, Multis
Rarioribus Nature& Artis Observationibus,
Amoenis Curiositatibus, & Selectis
Memorabilibus Illustrata & Confirmata,
Cum Indicibus & Autoris Vita

PRINT ENTITLED: Nuces moschata varice cum floribus.
SOURCE: Nucis Moschatae Curiosa Descriptio, Historico-Physico-Medica, Multis Rarioribus Nature & Artis observationibus, amoenis curiositatibus, & selectis memorabilibus illustrata & confirmata, Cum Indicibus & Autoris Vita.
AUTHOR: Christiani Francisci Paullini.
PRINTED BY: Joh. Christoph Stosselii of "Francofurti & Lipsiae" [London & New York].
TYPE SET: Joh. Henry Groschii.
BOOKSELLER: Erssurt.
DATE OF PUBLICATION: 1704.
SCOPE AND PURPOSE OF PUBLICATION: This publication pertains to medical use of nutmeg as a treatment for numerous medical conditions.
PRINT METHOD: Copperplate engraving; a plate mark identifying the intaglio process.
PAPER TYPE: Handmade antique laid and chain ~ link paper; water mark ~ none.
COLORING: None.
HISTORY: Paullini (1643~1712) was a noted German physician and theologian who wrote 68 books during his lifetime. His medical reference books are based on the medical theory in treatment of the "four temperaments". This is the ancient belief which dates prior to 450 BC that human life is maintained by the balance of four humors. The four temperaments are: sanguine "AIR" (pleasure seeking ~ sociable), choleric "FIRE" (ambitious ~ power seeking), melancholic "EARTH" (logical ~ analytical) and phlegmatic "WATER" (calm ~ serene). Within the text, only two full page images are contained within over 900 pages. Written in Latin, hundreds of treatment remedies using nutmeg are detailed for medical problems such as: cholera, bulimia, anorexia, dysentery, appeplexi, and more.
[KLOPFER article © September 2013]